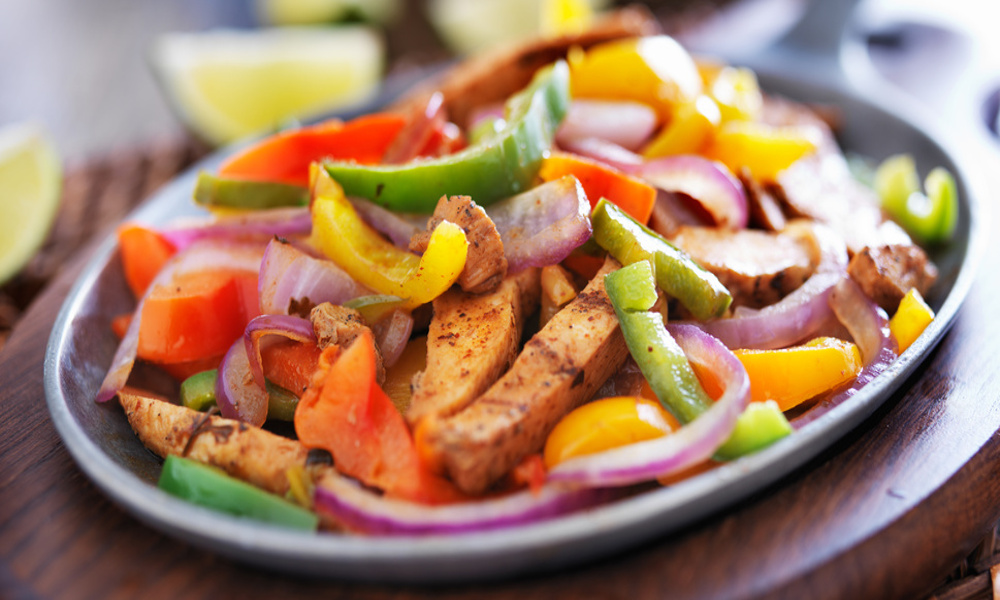 Fajitas are often believed to be an authentic Mexican dish, but they are in fact Tex-Mex in origin. There are many varieties to choose from, with chicken and beef being the most popular, but you can also make them with shrimp or even try vegetarian fajitas.
Tortillas are filled with a tasty mixture comprising your choice of protein plus south of the border seasonings like garlic, cumin, onion, and chili, then you can offer condiments on the side, such as lettuce, cheese, salsa, sour cream, and guacamole. Although you can serve the tortillas, meat and vegetables separately, so people can assemble their own fajitas, you can also combine the meat and vegetables with the seasonings, to make the recipe quicker and easier.
The following recipe makes 8 fajitas, or enough for 4 servings.
A Tasty Chicken Fajitas Recipe
What You Will Need:
1 lb skinless, boneless chicken breast, in ½-inch strips
1 green bell pepper, in thin strips
2 tablespoons fresh lime juice
3 tablespoons olive oil
1 thinly sliced yellow onion
1 teaspoon chili powder
¼ teaspoon garlic powder
1 teaspoon salt
1 tablespoon cornstarch
½ teaspoon ground cumin
½ teaspoon onion powder
¼ cup water
8 warm flour tortillas
Lime wedges, shredded lettuce, shredded cheese, salsa, guacamole and/or sour cream, to serve
How to Make Them:
Combine the chili powder, cumin, garlic and onion powders, salt, water, cornstarch, and 2 tablespoons of the oil. Rub this mixture over the chicken, onion and bell pepper, then refrigerate for 15 minutes. Heat the other 1 tablespoon of oil in a nonstick skillet and heat it up until it begins to shimmer. Add the chicken, onion and bell pepper, then cook over a high heat, stirring occasionally, or until the chicken is cooked through and the veggies are tender. This should take about 6 minutes. Take the mixture off the heat and stir in the lime juice.

Serve the hot chicken mixture with tortillas you have warmed in the microwave, and offer lime wedges, lettuce, cheese, salsa, guacamole, and/or sour cream on the side.

Do you have a great fajitas recipe? Consider sharing it with our readers in the comments section below.

Learn more about how-to save money on organic food and discover alternatives to microwave meals.

<!-comments-button-->