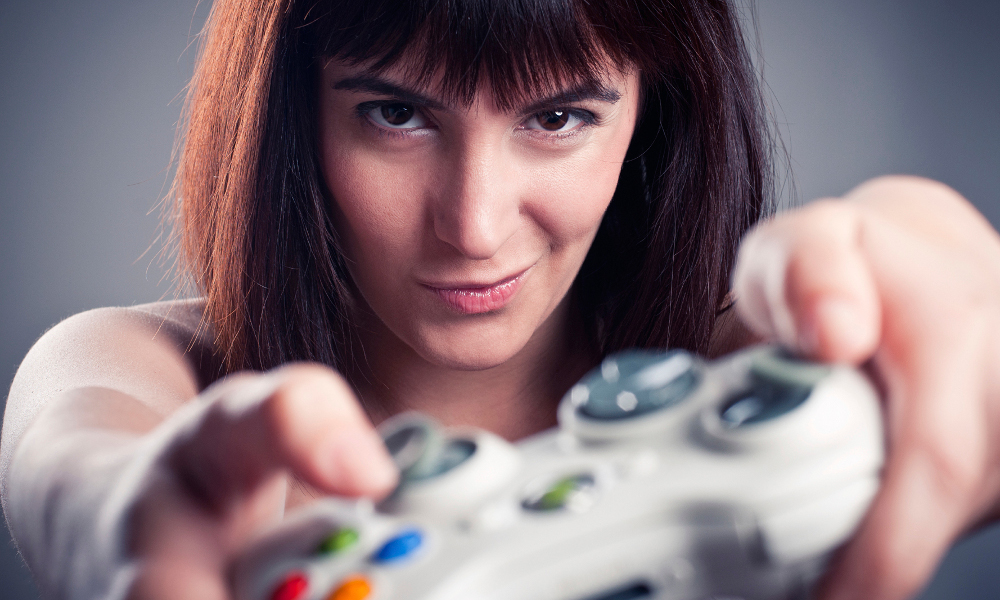 The Holiday season is definitely a great time of year for gamers. Not only do many of the most anticipated video games and gaming consoles get released, but the gift giving makes it easier to acquire these hot games and consoles. Video games, gaming consoles, and accessories are expensive, so why wouldn't a gamer add these items to their Holiday gift wishlist. After all, these gaming items make for a great gift!
To help those shopping for gifts for gamers, we have compiled a list of the 20 bestselling video games, consoles, and accessories, that are sure to be on every gamers wishlist this year. That is, if they have not already bought the item.
For gifters, always make sure you know which console they have (e.g. Xbox One, PlayStation 4) before buying video games. This is important as the games for one device won't work on the other device.
20 Christmas Gift Ideas for Gamers
Genre: Entertainment Publisher: Ubisoft, Release date: 2015 ESRB rating: E10+ (Everyone 10 and older)

Microsoft

A mysterious and unstoppable force threatens the galaxy, the Master Chief is missing and his loyalty questioned. Experience the most dramatic Halo story to date in a 4-player cooperative epic that spans three worlds. Challenge friends and rivals in new multiplayer modes: Warzone, massive 24-player battles, and Arena, pure 4-vs-4 competitive combat* *Online multiplayer features require Xbox Live Gold membership (sold separately) .

Activision

Call of Duty: Black Ops III is the ultimate 3-games-in-1 experience. In Campaign mode, you must navigate the hot spots of a new Cold War to find your missing brothers. Players can play the campaign cooperatively or solo and are now always connected to the intelligence grid and their fellow operatives during battle. Multiplayer features a new momentum-based chained movement system, allowing players to fluidly move through the environment with finesse, using controlled thrust jumps, slides, and mantling. Black Ops III multiplayer also introduces the new Specialist character system, which allows players to master 9 characters' battle-hardened weapons and abilities through a challenge-based unlock progression system. No Treyarch title would be complete without its signature Zombies offering. "Shadows of Evil" has its own distinct storyline right out of the box, set in the fictional 1940s Morg City, where four particularly troubled individuals - the femme fatale, the magician, the detective, and the boxer - star in this film-noir inspired horror story.

Nintendo

The ultimate evolution of Super Mario Bros. is here! The Mario experience of your dreams has arrived and is bursting with creativity. including yours! Play a near-limitless number of intensely creative Super Mario levels from players around the world. It's easy enough to create your own levels with the Wii U GamePad controller that it may feel like you're simply sketching out your ideas on paper, but you can now bring enemies and objects into a playable course in ways you could only dream of before. What was impossible in traditional Mario games is now impossibly fun, so let your imagination run wild! Product InformationSoftware Main Type: GameSoftware Sub Type: Role Playing GameSoftware Name: Super Mario MakerESRB Rating: E (Everyone) Network Compatible: YesPlatform Supported: Wii U

STAR WARS

Prepare yourself for a galactic adventure with this towel set featuring menacing images of the galaxys newest villain, Kylo Ren, and his stormtroopers. soft, easy-care cotton highly absorbent design includes 1 bath towel and 1 hand towel Cotton. Washable. Imported. Bath towel: 25x50" Hand towel: 15x26" Care tip: Some lint may be observed in the first few launderings of towels, and will diminish with each subsequent laundering. This does not affect the look, feel or performance of your towels. Please follow the recommended care instructions on the label and keep the lint trap clean on your dryer.

ASSASSIN'S CREED

Oppression has to end. Add some gaming style to your wardrobe with this awesome official Assassin's Creed Syndicate black men's t-shirt! Inspired by the stealth adventure game Assassin's Creed Syndicate this t-shirt sees an awesome print across the front showcasing the new Master Assassin, Jacob Frye. Men's sizes.

Nintendo

Super Mario 3D Land reinvents everything fans love about Mario gaming with the first platforming environment in true 3D, without the need for special glasses Players will experience an exhilarating new sense of depth, distance and speed while running, jumping and stomping on enemies throughout the levels. Product InformationSoftware Main Type: GameSoftware Sub Type: Action/Adventure GameSoftware Name: Super Mario 3D LandFeatures: Tanooki Mario returns! The fan-favorite Tanooki suit makes its first appearance on the Nintendo 3DS. Use the Tanooki suit's tail to attack enemies or float gently down from great heights. These abilities help players move through the 3D environments with more confidence.3D visuals make it easier for players to judge the depths and distances in their environments. Players can more accurately judge the jump to the next platform or how far Mario is from a question block. New and familiar abilities add unique game-play strategies to the adventure. Mario can perform a rolling somersault attack or run fast with a dash move. The Circle Pad gives players complete control to confidently move Mario through fun and challenging environments. New enemies include Goombas with tails, tall stacks of Goombas and a Piranha Plant that spits ink to obscure a player's view. Game Expansion Pack: NoESRB Rating: E (Everyone) Rating Descriptor: Mild Cartoon ViolenceSingle Player Supported: YesRelease Date: 2011-11-13Language Supported: EnglishPlatform Supported: Nintendo 3DS

Xbox

Xbox Live Gold is your ticket to the most exciting social entertainment network in the world. Experience unrivaled multiplayer gaming, with blockbuster franchises such as Halo, Forza Motorsport and Kinect Sports. Watch HD movies, TV shows, Live events, music and sports. Enjoy premier entertainment apps and Internet Explorer. Plus, take advantage of member deals and exclusives. And only on Xbox One Get TV shows and movies that are tailored for you, discover what's popular, and watch your favorite shows with the OneGuide Smarter matchmaking that happens in the background Make and receive video calls in 1080p HD with Skype on your TV Capture epic moments with Game DVR and easily create high quality videos to share with the world Anyone in your home can access many Gold benefits like unlimited multiplayer on your Xbox One

Sony

Sony brings you great high quality products and the innovation you expect from Sony. br br Be sure to read the specifications for all the great features.

Microsoft

Journey through the gaming universe with nearly limitless possibilities

Microsoft

Get pro-level precision with the Xbox Elite Wireless Controller, featuring an arsenal of swappable components, Hair Trigger Locks, and limitless customization with an easy-to-use app. Choose from a variety of thumbsticks, D-pads, and paddles for a tailored feel that provides game-changing accuracy and speed. Flip the Hair Trigger Locks to fire faster. Improve your control with interchangeable paddles and rubberized diamond grip. Designed to meet the needs of today's competitive gamers, the Xbox Elite Wireless Controller brings it all together with an app, where you can tweak everything from trigger sensitivity to button mapping.

Nintendo

Players tangle, pull and stitch yarn to explore Yoshi's world in creative new ways. Yoshi has never been more adorable than as a toy knit from yarn. His entire environment is made from materials like felt, yarn, cloth and cotton, creating a gorgeous HD world that looks good enough to touch. Instead of eggs, Yoshi tosses yarn balls at enemies. He can incapacitate a Piranha Plant by muzzling it with a piece of colored string. Or he can even use the yarn to knit together background elements. Gobble friends and turn them into eggs. Then toss them into hard-to-reach heights and secret depths to discover in two-player cooperative play. The game is co-developed by Good-Feel, the developer that created Kirby's Epic Yarn, and Nintendo Co, Ltd under the supervision of Takashi Tezuka, producer of Yoshi's Story and the Yoshi's Island series. ESRB Rating: EVERYONE with Mild Cartoon Violence

Nintendo 3DS

What's new? Face Tracking 3D: Using the inner camera, face tracking 3D provides an improved 3D gaming experience from a wider range of viewing angles compared to Nintendo 3DS. The New Nintendo 3DS XL system automatically adjusts the 3D "sweet spot" based on the location of the user's face. New Controls: The C Stick opens a new world to your games. With certain games, you can freely control the in-game camera to get a new point of view. And, new ZL and ZR buttons give you more options than ever. Faster Processing Power: Improved processing power allows for faster loading of applications, such as Miiverse and games. Plus the improved CPU performance allows you to enjoy faster speeds for downloading software. *Download speeds may vary depending on internet connection. Play Even More Games: You can still play all Nintendo 3DS games and nearly all games from previous systems such as Nintendo DS and DSi. And, some future titles will be exclusively playable on the New Nintendo 3DS XL. What's Included: New Nintendo 3DS XL Hardware Stylus 4GB microSDHC Memory Card 6 AR Cards Quick-start Guide/Manual

Sony

The DualShock 4 Wireless Controller features familiar controls, and incorporates several innovative features to usher in a new era of interactive experiences. Its definitive Analog sticks and trigger buttons have been improved for greater feel and sensitivity. A multi-touch, clickable Touch Pad expands gameplay possibilities, while the incorporated light bar in conjunction with the PlayStation Camera allows for easy player identification and screen adjustment when playing with friends in the same room. The DualShock 4 Wireless Controller is more than a controller; its your physical connection to a new era of gaming.

LEGO

Rated E10+ for 10 Years and Older. When a mysterious and powerful vortex suddenly appears in various LEGO worlds, different characters from DC Comics, Lord of the Rings and the LEGO Movie are swept away. To save their friends, Batman, Gandalf and Wyldstyle bravely jump into the vortex to rescue their friends and fight to save all of LEGO humanity. Let your creativity be your guide as you build the LEGO Gateway to adventure, journeying through unexpected worlds and teaming-up with unlikely allies on the quest to defeat the evil Lord Vortech. Play with characters you never thought you could see in a LEGO game together, using vehicles and weapons you never thought possible. LEGO Bad Cop driving the DeLorean Time Machine... why not?! The Ninjago Masters of Spinjitsu fighting alongside Wonder Woman...yes, please! Get ready to break the rules, because the only rule with LEGO Dimensions is that there are no rules. An Extreme Cross-Over. For the first time in any LEGO videogame, characters from a mix of the best brands in the universe join forces and battle in worlds outside of their own. A Dark Knight, a Wizard, and a Master Builder traveling together down the Yellow Brick Road are just the beginning...Keep Expanding. By purchasing additional expansion packs, you can grow your collection with a variety of your favorite brands to create even more crazy combinations. More is Better. Bring up to 7 characters, vehicles and weapons into the game all at once by dropping them on the LEGO Gateway for the most exciting and action-filled game around. Play Alone or with a Friend. Let your imagination guide your solo journey or have a friend join the adventure with co-operative, drop-in/out play. The Starter Pack Will Last. One LEGO Toy Pad and the videogame found in the initial Starter Pack will offer continued compatibility with future Expansion Packs for years to come. No compatibility chart necessary - everything you buy today or expand with tomorrow will continue to work. The LEG

EA

Be the playmaker in Madden NFL 16 with all-new controls that allow you to dominate in the battle for air supremacy. New QB mechanics including body-relative throws and touch passes provide unprecedented depth and control while under center. Combined with a new risk/reward catch and pass-defend system, get ready for the biggest WOW moments in franchise history.
Are you a gamer? What are some of the video games, consoles, and accessories you have on your Holiday wishlist this year? Share your favorites with our readers in the comments section below.

For more Holiday gift ideas, check out our Pinterest boards:

<!-comments-button-->