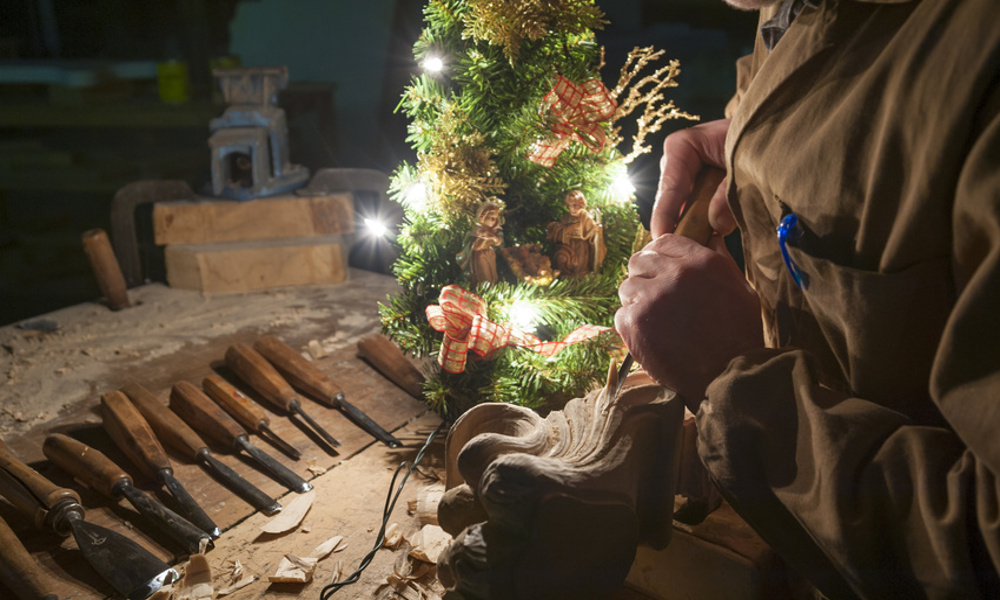 One of the most popular Christmas gift ideas for men is often a nice tool set; however, this year it may not be a gift idea just for men, as women also enjoy DIY projects. Those into home improvement projects probably will have a specific tool, tool set or home improvement product on their Holiday wishlist. This Holiday Season, get those struck with the Do-It-Yourself (DIY) bug exactly what they are looking for.
If the person you are buying for doesn't already have a large collection of power tools, consider getting them a combo kit. Although these might be more expensive, it will help them get their tool collection started.
We recommend you find out what brand of tools they have (e.g. Milwaukee, Dewalt, Makita) before you buy their gift this year. They might want to keep their tools consistent, thus brand loyalty might be important to them. With this information you can narrow your search for the perfect gift by buying a brand they love.
We have compiled a list of tools & home improvement items under $100 that are sure to get the giftee excited about their next DIY project. Plus, these products won't break your Holiday budget!
2015 Home Improvement Holiday Gift Ideas
Milwaukee

Milwaukee, 49-17-0180, Storage, Power Tool Accessories, Tool Bags,Na Features: 50 Total Pockets Of Varying Shapes And Sizes - Heavy-Duty Ripstop Polyester For Unmatched Durability - Padded Handles Provide A Stable And Comfortable Grip When Carrying - Internal Hammer Loop Keep Hammer Easily Accessible - Tools Pictured Are Not Included -

Dewalt

35-Piece Impact Ready Drill Bit Set - DW2180. Designed with ultra durable steel to handle tough abuse. Black oxide coating for increased strength and resistance to wear and tear. Rated to be used with up to 2,000 in-lbs. of torque. Durable storage case to secure bits and accessories

Makita

18V LXT Li-Ion 1/2 in. Hammer Driver-Drill - XPH012. 18V LXT 3.0 Ah Lithium-Ion Battery - BL1830. Rapid Optimum Charger - DC18RC. Case. Makita-built 4-pole motor delivers 480 in-lbs. of maximum torque. Compact and ergonomic design at only 8-1/8 in. long. Variable 2-speed design (0 - 400 & 0 - 1,500 RPM) for a wide range of drilling, driving and hammer drilling applications. Weighs only 4 lbs. with the battery for reduced operator fatigue. Equipped with Star Protection Computer Controls to protect against overloading, over-discharging and over-heating. MakitaAas Lithium-Ion battery takes only 30 minutes to charge minimizing any downtime

DEWALT

20-piece impact ready magnetic tough case includes pivot holder, deep sockets, drill bits & screwdriver bits

Milwaukee

M12 Lithium-Ion Radio - 2590-20. Auxiliary Input Cord. AC Adaptor. (2) AAA Batteries. Thanks to the exclusive digital processor, the 2590-20 Radio delivers highest reception and digital signal clarity. Premium weatherproof speakers deliver a high quality sound. Weather sealed MP3 compartment protects any small device from rough situations. Shock absorbing ABS polymer housing gives a safe protection against weather and abusive job site conditions. Ultraslim size. Powered by M12 Lithium-Ion battery packs or AC adaptor. M12 Lithium-Ion battery and charger sold separately

Dewalt

50 ft. Cross-Line Laser Level - DW08801. (2) AA Alkaline Batteries. 50 ft. range and accurate up to +/- 1/4 in... Self-leveling dual axis lines. Locking pendulum housing for durability with internal parts. Over-molded housing for maximum shock resistance. Integrated 1/4 in. thread for use with a tripod

Black & Decker

Thermal Leak Detector - TLD100. Bonus Tip Guide. Easily spot hidden energy leaks in your home. Shine the light on the wall and set the reference temperature. Move the light around your house. When the temp changes by 1, 5 or 10 degrees F (user adjustable) , the light will change to red or blue to indicate a hot or cold spot. Energy Star states that plugging the leaks and drafts in your home can save up to 20% off your heating and cooling energy costs. Comes with bonus booklet showing easy ways to seal and insulate your home. Displays surface temperature (of a wall, window, etc) on LCD screen in Fahrenheit or Celsius

Milwaukee Tools Random orbit palm sander includes carrying case and dust bag. It has 3-Amps permanent magnet lightweight motor to offer reliable speed and power. Palm sander has a variable speed dial of 7000 - 12000 orbits per minute. It starts motor quickly, smoothly to avoid jerking and wear/tear on the brushes as well as bearings.Palm sander has 5-Inch pad cushioning and brake to minimize the swirl marks and offers smoother finish. It has built-in vacuum ports to accommodate 1-1/4-Inch or 2-1

Porter-Cable

18-Gauge 2 in. Brad Nailer - BN200B. 1000 Fasteners. Operating Manual. Uses standard 18-Gauge brads from 5/8 in. to 2 in... Power to drive maximum fasteners into hardwood. Rear exhaust to keep contaminates away from work. Internal piston catch - For consistent maximum power on every shot. Tool free nail depth adjustment and nail jam release. Long life maintenance free motor. Tool free adjustable belt clip. Trigger lock off switch. Reload fastener indicator. Non-marring tip - designed to protect against marring the work surface. Onboard storage

Dewalt

Mobile Work Center - DWST20800. Single front pull-up latch easily opens up the unit. 4 work levels a" top tool box and tray that can be placed on opened up lid, mid organizer section, and large bottom bin for power tools. Telescopic handle provides an ergonomic hold, easy maneuvering and can be lowered for storage. Side handles allow you to conveniently lift up above step on onto vehicle. Ball bearing slides for smooth opening even with heavy loads. Heavy-duty wheels suitable for rough terrain

Black & Decker

20V MAX Cordless Lithium-Ion Drill/Driver - LDX120C. 20V MAX Lithium-Ion Battery - LB20. 20V MAX Lithium-Ion Charger - LCS20. 2 in. Double-Ended Bit Tip. Lithium-Ion technology is lighter, more compact, and no memory. 20V MAX Lithium-Ion battery holds charges longer between use and has longer cycle life. 11 position clutch provides precise control for drilling into wood, metal, plastic, and all screwdriving tasks. Compact and lightweight means less fatigue and allows users to drill/screw in confined spaces. Variable speed allows countersinking without damaging material. Anti-slip soft grip provides comfort when using the drill

Dewalt

TSTAK-2 Flat Top Stackable Organizer - DWST17807. Flexible platform allows different combinations. All units can stack on top of the other, connected with durable slide latches. Bi-material handle on top of each unit for easy and comfortable lifting. Heavy-duty metal latches for rust resistance

Bosch

12V Max Cordless Lithium-Ion Pocket Reciprocating Saw (Bare Tool) - PS60BN. Exact-Fit Tool Insert Tray. Bare Tool - Battery and Charger Sold Separately. Fuel gauge for easier battery management. Soft grip handle is optimized for a secure and comfortable grip. Front rubber wrap protects internal parts from dust, debris and water. Compact design ideal for reaching into tight areas and corners. Able to cut different types of materials including hard material like copper and conduit. Electronic Cell Protection (ECP) , unique battery pack design and customized electronics delivers optimal battery life and performance. Custom Exact-Fit Tool Inlays are customized inserts that hold individual tools in place with space underneath to keep other items such as bits, batteries, chargers and more

Delta

6 in. Variable Speed Grinder with Tool-Less Quick Change - 23-198. 36-Grit Coarse Wheel. 60-Grit Friable Wheel. (4) Rubber ft... (2) Safety Shields. Worklight (40 Watt Bulb Not Included) . (2) Fully-Adjustable Tool Rests. Diamond Wheel Dresser. Patented tool-less quick change wheels and variable speed control offering you convenience and versatility in your grinding, sharpening, buffing and polishing operations. Upfront variable speed dial allows you to easily control speeds from 2,000 RPM to 3,400 RPM for a fine level of control depending on the materials you are working with. A 2.5 amp induction type motor for powerful performance. Incorporates two different grits for sharpening and grinding. The white sharpening wheel is used for sharpening tools and chisels, its tool rest has a drill bit rest milled into the surface so you will get the correct angle on the tip at all times. Two-piece tools rests are independently adjustable to compensate for wheel wear and to achieve different angles. Worklight with a separate on/off switch and flexible goose neck provides illumination during setup and while grinding. Cast iron base for duability and reducing vibration during operation. Full-size safety shields are clear and have thumb screws for easy adjustment

Dewalt

Dewalt, D26451k, Sanders, Power Tools, Orbital Sanders,Na 5 Random Orbit Sander Kit With 3 Amp Motor And Textured Anti-Slip Grip The Dewalt 5 Random Orbit Sander Is Extremely Durable And Efficient. This Amazing Tool Features A Textured Anti-Slip Top And Body Grip Which Provides Ultimate Comfort And Control During Use. Making These Even More Versatile Is The 3.0 Amp Motor Which Operates At 12,000 Opm Providing Ideal Sanding Speed For Smooth Finish. Features: 3.0 Amp Motor Operates At 12,000 Opm Providing Ideal Sanding Speed For Smooth Finish - Textured Anti-Slip Top And Body Grip Provides Ultimate Comfort And Control During Use - Controlled Finishing System Maintains Controllable Pad Speed And Minimizes Gouging During Start Up - Dust-Sealed Switch Protects Against Dust Ingestion For Longer Switch Life - Sealed 100% Ball-Bearing Construction Provides Longer Life - High Capacity Dust Bag With Built-In Vacuum Adapter Provides Maximum Dust Collection With Or With Out A Vacuum - Dual-Plane Counter-Balanced Fan Reduces User Fatigue - Accepts 5, 8-Hole Hook Loop Paper Allows Sanding Discs To Be Switched Back And Forth Quickly And Easily - Includes:Dust Bag - Vacuum Adapter - Storage Bag - - Specifications: Amps: 3.0 Amps - Orbits/Min: 12,000 Opm - Orbit Diameter: 3/32 - Dust Collection: Yes - Paper Size/Type: 5, 8-Hole Hook Amp; Loop - Sfpm: N/A - Dust Sealed Switch: Yes - Pad: N/A - Pad Break: Yes - Cfs - Tool Weight: 3.4 Lbs - Shipping Weight: 6.9 Lbs - Dewalt Is Firmly Committed To Being The Best In The Business, And This Commitment To Being Number One Extends To Everything They Do, From Product Design And Engineering To Manufacturing And Service.

Leatherman Tool

The Leatherman Juice CS4 is their second largest Juice model and just like its bigger brother it's the perfect size for a purse pocket glove- or tackle-box. Smaller hands will appreciate all the same power and features as other full-size multi-tools with handles sculpted just for them.

Makita

18V LXT 3.0 Ah Cordless Lithium-Ion Jobsite Radio - XRM02W. A/C Adaptor - SE00000077. Antenna - SE00000033. AA Battery. Bare Tool - Battery and Charger Sold Separately. Delivers rich stereo sound from two powerful 3-1/4 in. side-firing speakers. 10 Preset FM/AM buttons and mp3/iPod compatible so the listening experience can be customized to everyone's liking. Protective bumper designs keeps the unit safe from scratches and bumps adding durability and ruggedness. Runs 16 hrs. from an 18V LXT Lithium-Ion battery and 8 hrs. from an 18V Compact Lithium-Ion battery. Compatible with Makita 9.6V - 24V slide-style and pod-style batteries for added power source versatility

Milwaukee

7.5 inches, Hand Staple & Nail Gun, Up To 75% More Driving Power, Hi/Low Power Switch For Driving Control, Tilt & Fire Mechanism Fully Drive Staples At An Angle, Integrated Stapler Puller, All Metal Jam Free Magazine, Handle Lock, Stapler Flush Drive Surface, Belt Clip, Staples To Use: Arrow T50 1/4 inches, 3/8 inches, 1/2 inches & 9/16 inches, Nails To Use Arrow T50 1/2 inches & 5/8 inches. ...

Milwaukee

Milwaukee, 49-17-0180, Storage, Power Tool Accessories, Tool Bags,Na Features: 50 Total Pockets Of Varying Shapes And Sizes - Heavy-Duty Ripstop Polyester For Unmatched Durability - Padded Handles Provide A Stable And Comfortable Grip When Carrying - Internal Hammer Loop Keep Hammer Easily Accessible - Tools Pictured Are Not Included -
Are you a DIYer? What tools or home improvement products are on your Holiday wishlist? Share your thoughts in the comments section below.

For more Holiday gift ideas, check out our Pinterest boards:

<!-comments-button-->