It seems like most websites have a rewards program, and as one of the largest marketplaces online, eBay is no different. The eBay Bucks Program was designed to provide eBay shoppers with an incentive to purchase qualifying items on the auction website. The program is pretty simple. For each qualifying purchase that you make, you'll receive 2% back. During certain promotional periods, eBay will offer higher eBay Bucks percentages, and some users have reported seeing as high as 5% back on qualifying purchases. The rewards program is currently available to both US and Canadian members of the site over the age of 18.
Restrictions on eBay Bucks Purchases
The eBay Bucks program does exclude certain types of products from earning cash back on products, including the following categories:
Any eBay Motors categories, including parts, vehicles, and accessories.
Classified Ads sections.
Any Real Estate (no, you cannot get 2% back on purchasing a home).
Gift Cards.
Paper money and collectible coins.
Industrial items.
Business items.
In addition to these categories, there are some requirements that must be met to earn your percentage back:
All purchases must be made using the eBay checkout system, and PayPal is required.
Purchases that you make prior to applying for the eBay Bucks programs do not qualify.
All bids must be placed on either eBay US or eBay Canada's websites.
The amount per purchase that you can earn is limited by eBay. The most that eBay will allow you to earn on purchases is $100 per purchase. Additionally, you're limited to $500 per quarter cash back, and $2,000 annually.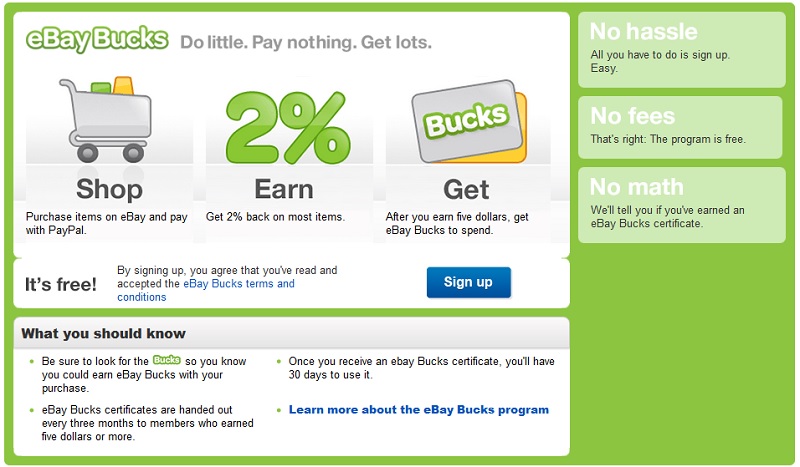 Source: eBay.com
Signing up for eBay Bucks
eBay members are not automatically enrolled in the rewards program. You have to sign up manually. To sign up for eBay bucks, please follow this link. Remember that any purchases made prior to enrolling in the program do not qualify for eBay Bucks.
Redeeming Your eBay Bucks
eBay Bucks are accumulated starting at the beginning of a quarter, and reset after three months. Within two weeks of the end of a quarter, you'll receive a certificate from eBay in the amount of Bucks that you've earned. Upon receiving your certificate, you'll have 30 days to redeem your certificate. Unfortunately, if you do not take advantage of the certificate, you'll lose your benefits. Upon checking out, your certificate should be use as the default payment method on any purchases.

eBay Bucks is a great program for frequent eBay buyers. Your rewards can accumulate quickly, and you may be able to purchase yourself a present each quarter!


<!-comments-button-->