The 2015 Army & Air Force Exchange Service (AAFES) Black Friday & Cyber Monday deals were recently published online. The sixty (60) page ad features deals on a wide variety of items including televisions, computers, headphones, handbags, footwear, beauty, apparel, home appliances and so much more. There are four unique days of deals which you should make note of:
Thanksgiving Day (11/26) – Red Pages 1-4
Friday (11/27) – Blue Pages 5-36
Saturday (11/28) – Green Pages 37-52
Cyber Monday (11/30) – Orange Pages 53-60
Each of these sales offer unique deals only available on that day, so be sure to make note of what you like and when it will be on sale.
Doors open to Black Friday shoppers at 4AM Friday, November 27. While on Saturday, November 28, doors will open at 6AM. Be sure to shop online for the deals on Thanksgiving Day and Monday (11/30). As with most retailers, quantities are limited and selection may vary by location.
For those military families that need to shop for gifts this Holiday season, the AAFES Black Friday sale might be worth checking out.
A special thanks to all of the men and women who serve in the United States Military. We are so thankful for your service and in protecting our great nation. We hope that all on active duty and serving overseas will stay safe. Happy Holidays to you and your family!
– Robert Hybki (Founder at Frugal Buzz)
Army & Air Force Exchange Service 2015 Black Friday Ad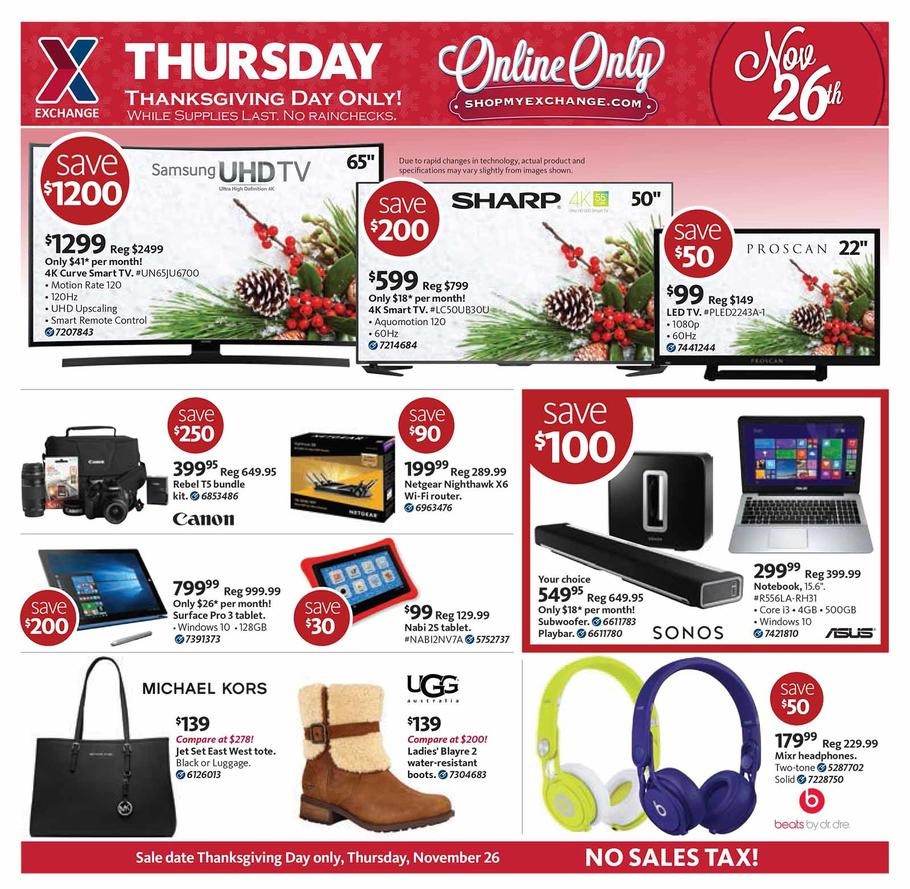 Our Favorite Deal: The Samsung UN65JU6700 4K Curve Smart TV drops from $2,499 to just $1,299 during this sale saving you 48% off the retail price for this television. This beats most reputable online retailers price by about $200. Plus, no sales tax!

<!-comments-button-->