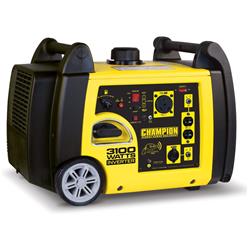 This Champion Power Equipment 75537i Inverter Generator originally $1,650 drops to $986.02 at Amazon. This deal price saves you 40% off the retail price for this power generator. Plus, this item ships free. This is the lowest price online by about $9, although eBay.com has this item for the same price. The Champion Power Equipment 75537i features inverter technology, is quiet (only 58 Dba), lightweight with wheels, and remote start operates up to 80′ away. Sales tax is applicable in some states.
Item Description
This Champion Power Equipment model 75537i gasoline powered, wireless start portable inverter generator features true sine wave technology, making it safe to power all of your sensitive electronic devices. Massive running watts make this unit ideal for the RV, camping trips, and hunting excursions. Having this inverter along on your next outdoor trip ensures that you won't have to go without your modern electronic amenities. Laying comfortably in your tent, you can activate the inverter sitting outside via remote and avoid the inconvenience of getting up before you are ready. The low decibel rating also means that the piece runs relatively quietly, making it easier to use without disturbing other campsites.
CHAMPION POWER EQUIPMENT,INC.
Champion Power Equipment 75537i 3100 Watt Portable Gas Inverter Generator Wireless Remote Electric Start with RV and Carb