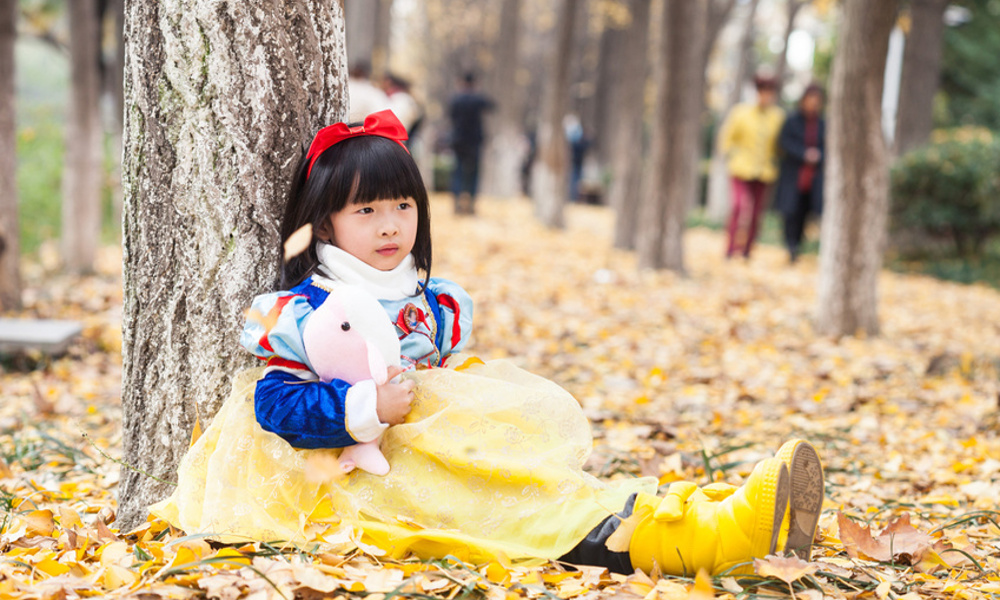 Over the years, Disney movies have featured a number of popular princesses, which is why dressing up as a Disney princess is extremely popular around Halloween time. This year is no different, as Disney continues to add to their list of upcoming films that will feature a princess character. In an effort to identify and list as many Disney princess costumes as possible, we took some liberties in defining official Disney Princesses for our list. For instance, you might be familiar with Mulan, whom does not carry an official title as "Princess", but is worth mentioning in our list. With this in mind, we have compiled a list of twelve Disney characters that fit our loosely defined definition of a princess, and showcased their official costumes so your little girl can find the perfect Halloween costume this year.
Princess Anna Costumes
Princess Anna is sure to be one of the most popular costumes this Halloween. The film, Frozen, quickly gained popularity after it's November 2013 premier. In the movie, Princess Anna is the youngest daughter of a King and Queen in a Norwegian Kingdom, known as Arendelle. Her costume features a mid-length blue/purple dress, with a black vest, long blonde hair that is braided.
Princess Ariel Costumes
Princess Ariel is the main female protagonist in the Disney film, The Little Mermaid. She is the only princess on this list born a mermaid. Her costume features a teal-colored mermaid inspired dress with long reddish hair.
Princess Aurora Costumes
Princess Aurora was featured in the 1959 Disney film, Sleeping Beauty. Her costume features long, golden hair topped with a gold princess crown and a long-flowing pink gown.
Princess Belle Costumes
Princess Belle is the fifth official Disney princess, and was featured in the popular Disney film, Beauty and the Beast. Her costume will have long, brown hair and a long golden dress. Be sure to have a red rose on hand to complete the look.
Princess Cinderella Costumes
Princess Cinderella is typically one of the more popular Disney princess costumes. Cinderella was not noble-born, thus when she marries Prince Charming, her princess status is confirmed. Her costume features a long, blue gown and long, strawberry-blonde hair. Complete the look with a pair of glass slippers.
Princess Jasmine Costumes
Princess Jasmine is the female protagonist in the 1992 Disney film, Aladdin. Her Arab-inspired costume is a light-blue/teal pants and top, with a headband with a similar colored jewel. Complete the look with teal flats.
Princess Merida Costumes
Princess Merida is one of the more recent princesses featured in the Disney/Pixar film, Brave. Her costume, like that of Ariel, features long, red hair and a long, green dress with a gold belt. Complete the look with a bow and arrow (although we recommend she leave this accessory at home when at school in her costume).
Princess Mulan Costumes
Princess Mulan is one of the few on our list that does not really have an official noble title. Featured in the popular Disney film, Mulan, her and General Li Shang (her husband) are the only non-royal Disney couple, which is why our loose definition of princess allowed us to add Mulan to this list of costumes. Her costume features long, black hair and a tradition Chinese dress.
Princess Pocahontas Costumes
Princess Pocahontas comes from the Disney film, Pocahontas, and is one of the only princesses we could think up that was loosely based on a real person. Her costume (for girls) is a little more difficult to find online as they typically are made for adults, but usually features a traditional Native American inspired dress with long, dark hair.
Princess Rapunzel Costumes
Princess Rapunzel is the main female protagonist in the film, Tangled. She is one of the few princesses on our list that was born a princess. Her costume features (really) long, blonde hair and a long, pink dress.
Princess Snow White Costumes
Princess Snow White is one of the more popular Disney costumes, with the Snow White character being featured in the Disney film, Snow White and the Seven Dwarves. Her costume features short, black hair with a gold and blue dress, and a red headband/bow.
Princess Tiana Costumes
Princess Tiana made history being the first African-American princess, featured in the popular film, The Princess and the Frog. Her story is set in the 1920's, so the look is much easier to replicate for those that prefer to DIY their costume. Her costume is a long or mid-length green and gold dress. Add to the look with green flats.
What was your favorite Disney Princess growing up? What are your kids favorites? Share them with us in the comments section below.
Save