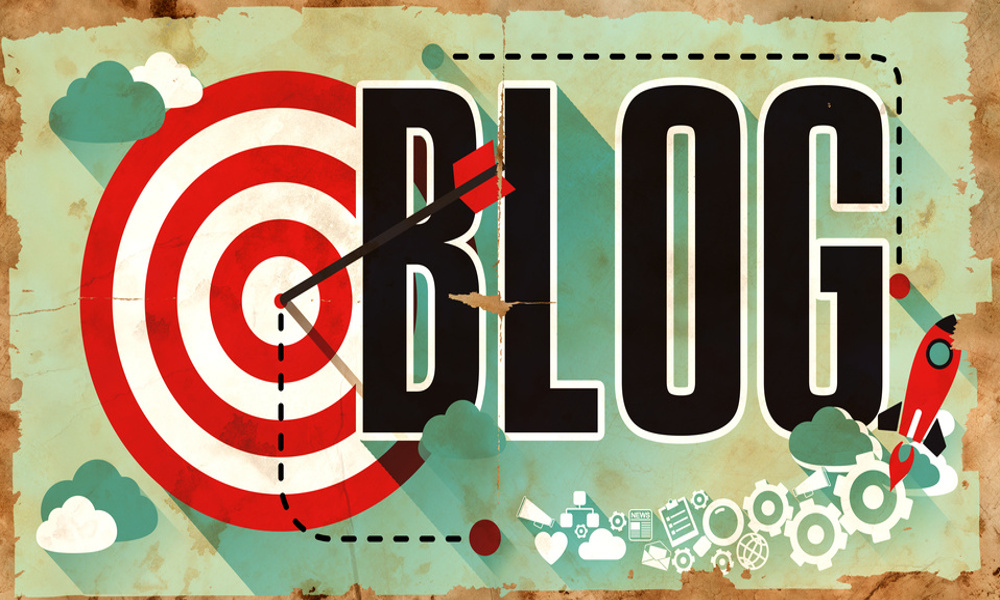 Blogging is an excellent way to connect with the world through the sharing of ideas on a particular subject matter. So it's no wonder most bloggers start blogs that cover subjects that interest them (e.g. fashion, tech, gaming, etc.); otherwise it would be difficult to maintain such a dialogue with your readers around the world. Being passionate about what you are writing about is critical as a blogger and should always be the focus for starting a blog.
When you initially start your WordPress blog, monetizing it shouldn't really be the main focus. It should always be about writing quality articles by offering fresh and unique ideas to share with your readers (and future audience). Once you have an established blog you can begin planning ways to monetize your website.
Our six (6) ways to make money blogging is intended for new WordPress bloggers who are beginning to explore monetization opportunities. It covers some of the most common ways to make money blogging, while hopefully introducing you to some new and innovative publisher products. We will start our list offering money making opportunities for newer blogs and end with two opportunities for well established blogs.
Affiliate Marketing
If you are a new blogger, this is by far the best way for you to earn some money from day one. Affiliate marketing allows bloggers the opportunity to make money reviewing products, making how-to videos, comparing products and so much more.
You can get started with affiliate marketing by establishing a relationship with a merchant (e.g. Nordstrom, Amazon, eBay) through an affiliate marketing network. CJ Affiliate by Conversant (formerly Commission Junction) and Linkshare (Rakuten) are some of the largest affiliate marketing networks. Merchants with affiliate programs will have a link in the footer of their site telling you about their program and where to sign-up.
To make money as an affiliate marketer you can include banner ads or links (generally provided by the merchant) on your blog to products or services from the merchant you have a relationship with. These banner ads and links are affiliate links, which track (using cookies) when visitors click-thru until the time of a potential purchase or when the merchant has set the cookies to expire. If the visitor made a purchase from that merchant before the cookie expires you may receive a commission based on pre-established commission rates.
We recommend joining the Amazon Associates program first and then expanding your merchant relationships via affiliate marketing networks.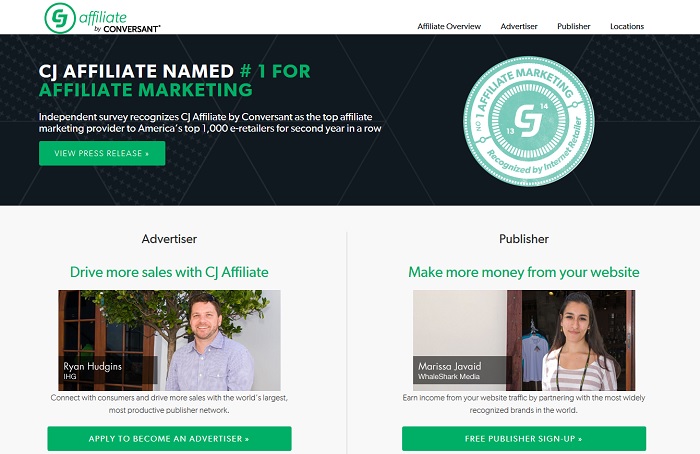 Source: CJ Affiliate by Conversant
Affiliate Aggregators
This is by far my favorite way to make money blogging. It's the quickest and easiest way to gain instant access to thousands of merchant relationships.My top three affiliate aggregator sites to join are Prosperent, Skimlinks and Viglink.
Each company works with thousands of merchants and maintains those merchant relationships so you can spend your time focusing on blogging while being able to earn commissions from marketing products and services from thousands of popular retailers. You will often find merchants offer these companies higher commission rates than you would experience if you worked directly with the merchants yourself.
These affiliate aggregator companies generally split the commission with you. It's typical for new publishers to receive a 70/30 split (i.e. you get 70% of the total commission received while they get 30%). The commission split is worth it not only because it gives you access to merchants, but because they each offer a unique set of publisher tools. Plus, as I previously mentioned, they are able to secure higher commission rates from popular merchants, so even with the commission split, you are better off than going it alone with direct merchant relationship (especially if you are just getting started).
All three companies offer a script that automatically affiliates merchant links, so you simply add the script to your site and wait for your visitors to click-thru and buy the things you review or mention. For those that are a bit tepid about dealing with code, each offers a WordPress plugin that is extremely easy to install and setup. You can probably have the plugin installed and setup in less time than it takes you to read this sentence!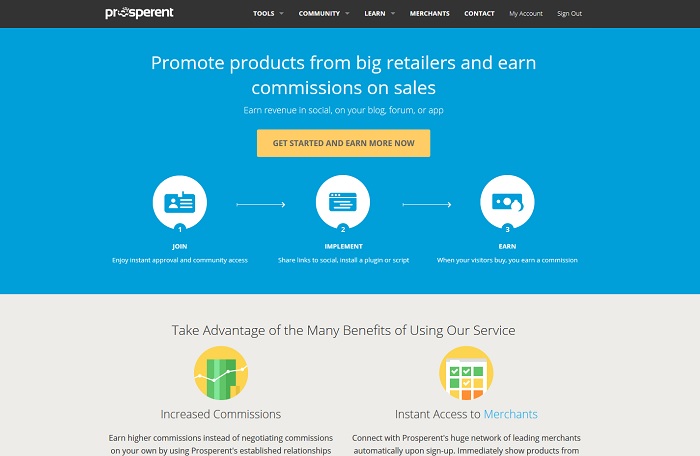 Source: Prosperent
Shopping Search Engine – ProsperShop
For those with a WordPress blog, Prosperent has unique and innovative publisher tools for you to utilize and make money with. One of my favorite publisher tools comes from Prosperent. Once you install the Prosperent Suite Plugin and connect your Prosperent account, you will gain instant access to a shopping search engine with over 70 million products.
We utilize the shopping search engine on our site to help visitors compare prices and find where to buy the things they are searching for online. ProsperShop connects your visitors to over 1,000 stores (closer to 2,000 at last check), so it's easy for them to find everything on their online shopping list.
They recently released a plugin for vBulletin forum sites.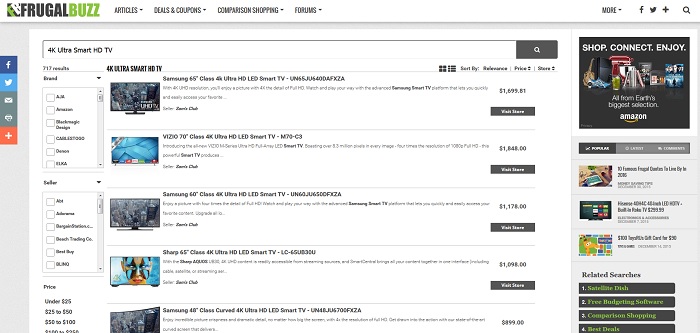 Source: Frugal Buzz
Image Tagging
If you haven't figured it out by now, I prefer Prosperent over the other affiliate aggregator sites, Skimlinks and Viglink. Image tagging is one of the reasons why! This publisher tool has yet to be released, but the beta is said to be coming soon. This publisher tool will allow you to tag images with links to merchants (see video below).
Say you operate a fashion blog and want to create a fashionable outfit to share. Simply upload your image or outfit collage, tag each of the items in the image with a direct link to merchants product page and when someone does buy that item, you may receive a commission. Image tagging will be great for tech blogs, outdoors blogs, beauty blogs, review blogs and so much more.
To be notified when the image tagging tool will be available, make sure you have signed-up up for your free Prosperent account.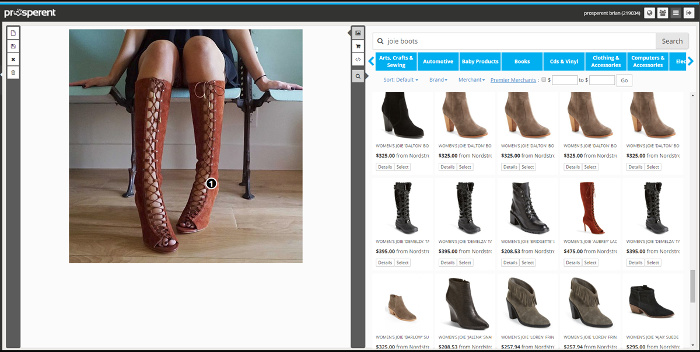 Source: Facebook (Prosperent)
Now that we have covered some of the ways newer bloggers can make money online, here are some of the preferred ways to make money for the high trafficked blogs. In general, these monetization opportunities are better if you have a site that receives steady, daily traffic and you have established yourself as an authority for your niche or blog subject.
Display Ads – Google Adsense
Display ads are by far the most common and popular way for websites to make money. You see these ads pretty much everywhere online. If your website qualifies, go with the best-of-the-best in Google Adsense. They have a large inventory of ads, so you can rest assured that the display ads will be relevant to your readers.
With display ads, you can earn money from the quality of your ad clicks and earn from impressions. The amount you receive will depend on a number of factors built into the Google advertising algorithm, with quality of your sites traffic likely being a major factor. Avoid paid bot traffic at all costs (i.e. cheap web traffic sites)! It will likely get you banned!
We recommend waiting at least six months (from your blogs launch date) to join Google Adsense. You should have a decent amount of quality traffic in the neighborhood of about 100,000 impressions per month. Keep in mind that reading their terms of use is a must! You will find plenty of bloggers online that violated the terms and were subsequently banned from Google Adsense often times without receiving their pending earnings.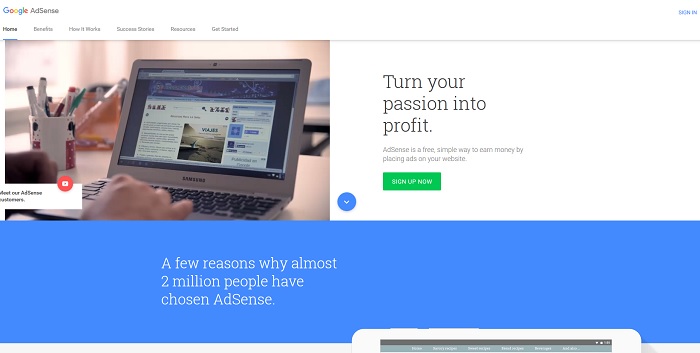 Source: Google Adsense
Sponsored Posts
Large companies want to reach as many potential customers in their target audience as possible. Since some readers experience ad blindness (i.e. they block ads or just don't notice them) going with sponsored posts is a great way for companies to advertise. Plus, they usually pay fairly well (per article or campaign) if you are a well established blogger, which is why sponsored posts aren't really something you should think about until you grow your audience.
Advertisers often take notice of larger blogs, so they may contact you directly about an opportunity at which time you would work out the terms (e.g. compensation); however, there are number of sites you can join that connect you with interested advertisers. We have never worked with any of these sites, so we really cannot recommend any at this time.
Whenever using any of the above methods to monetize your blog, always make sure you include a financial compensation disclosure in your sites footer, at the top/bottom of the blog article or in any other visible spot on your site.
In Conclusion
These six ways to make money blogging should help you find something that works for you. Think about your audience and what they might find interesting, then plan a way to monetize that traffic. Good luck!
If you have any questions feel free to ask them below.
For those that have experience utilizing any of the aforementioned ways to make money as a blogger, share what worked for you below. Feel free to share any ways to monetize a WordPress blog not mentioned in this list.
Disclosure: This article contains referral links, so if you sign-up for any of the networks I mentioned above, I may receive a commission based on your future earnings. If you do sign-up for one of these networks using my referral links, I will be happy to answer any questions you have to help you improve your blog and hopefully allow you to make more money blogging.