You've likely come across a few blogs recently that you just absolutely loved. The blog may have answered a question you were seeking the answer to online, provided a review of a product you were thinking about buying or covered a topic that interests you. Perhaps you thought, "I can do that!" Once you made the proclamation that blogging was something you wanted to give a try you started seeking tips on how-to start a blog. Now that you have found our article designed to help beginning bloggers, you will quickly launch your new passion with ease. This article is your basic checklist for starting a blog, so if you have any questions about starting a blog, feel free to ask me in the comments section below.
Blog Topic
The very first thing you need to do is to think about the overall topic for your new blog. The topic should cover something you are interested in (e.g. fashion or gaming), something you are an expert on (e.g. daily fantasy football) or it could simply be a personal blog that let's your family stay up-to-date on your latest life happenings. Whatever the topic is, make sure it is something you can write about, so that your blog content is always fresh.
Choose a Domain
Buying a domain name (your website URL) is an important part of getting started blogging. It adds a level of professionalism to your blog. Sure you could sign-up for a free blog on Blogger or Tumblr, but the domain is not entirely yours. Your blog will just be a subdomain of those blog platforms and not totally representative of your blog.
Choose a domain that gives you an identity. Something that your readers will remember (the shorter the better), something that stands out or something that identifies the blog topic you are writing about. You might simply choose a domain that includes your first name and the topic you're writing about (e.g. frugalrobert).
Once you have come up with your preferred domain name it's time to register it. To register your domain name, go to any domain registration website like GoDaddy.com, HostGator.com or 1and1.com. Locate the domain search tool that allows you to lookup your domain name to see if it is still available. Type in your domain name and hit the search button.

If you are lucky, your domain name will be available, which means it's time to choose your preferred domain extension (e.g. .COM, .NET, .ORG). The most common domain extension is still .COM; however, the introduction of many new domain extensions is becoming popular options for many businesses and blogs in which the domain extension matches their business model (e.g. .VEGAS for a hotel in Las Vegas). Keep in mind that the pricing does change between each domain extension. Typically, the .COM and .INFO extensions will be on the less expensive side, while .GLOBAL and .NYC (and other specialized domain extensions) will cost you more to buy.
Once you have found your domain address, you can go ahead and register it (buy it) or continue shopping on their site for hosting plans (our next step in this guide).
Private Domain Registration
During the checkout process for your domain registration, the website you are buying from will ask you if you want the domain to be privately registered or publicly registered. Private registration means that when someone does a WHOIS lookup the domain will appear to be registered by a company. Your name, address and contact info will essentially be kept private. If you choose public registration, anyone that does a WHOIS lookup will see your name, address and contact info listed. I would recommend the private registration route, unless you have a P.O box or some other address that you can list, so your home address is not being shown. This does come at a cost, usually around $8-10/year to keep your information private.
Choose a Hosting Provider
The domain itself will not be sufficient to start a blog, since you need the infrastructure in place to store your blog articles, pictures, videos, etc.. For larger companies, they will setup their own network of servers to house this data; however, it is quite expensive to do this. The cheaper option (and most common option) is to sign-up for a shared hosting plan.
There are a number of hosting packages available, so start considering your needs. Typically you can start off with the cheapest hosting package and upgrade as your blog grows. I would recommend choosing an option with 20GB SSD, 1GB RAM, 1 CPU Core and 1000GB Bandwidth. These are basic resources that will be available to start your blog. Keep in mind that using more than these resources will be a problem with most hosting providers. They will limit your website's use of these resources to make sure you don't go over your plans resource allocation, which could negatively impact your web performance (e.g. website loading speed). If at some point this starts to happen, it may mean that your website is growing, which means it's time to upgrade to a better hosting package.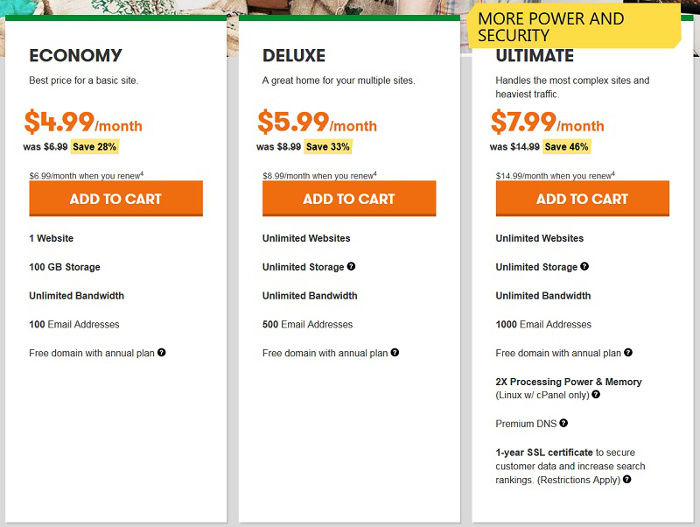 A few hosting providers I would recommend include BlueHost.com, GoDaddy.com, HostGator.com and InMotion Hosting (which is where Frugal Buzz is hosted!).
Linux Hosting
If your web hosting provider has you on a Linux-based hosting account and server, you will likely utilize the popular control panel, cPanel. It lets you easily manage a number of your account features, including the files, applications, and email accounts hosted on your account or server. If you are just getting started blogging, a hosting account with cPanel is preferred.
Choose a Blogging Platform
This step will require you to do some research on the best blog platforms available, since some are more user friendly than others. I would highly recommend WordPress. I just did a quick Google search on the number of websites using WordPress and it revealed that over 74.6 million sites (including Frugal Buzz) utilize WordPress as their blog platform. As you can see it's quite popular.
WordPress is a great option for beginning bloggers. It offers an easy-to-use dashboard and it takes little time to get comfortable with. If your hosting plan includes the use of cPanel, it's extremely easy to add WordPress to your website. Start by logging into your cPanel account, finding the application section and clicking the link for WordPress: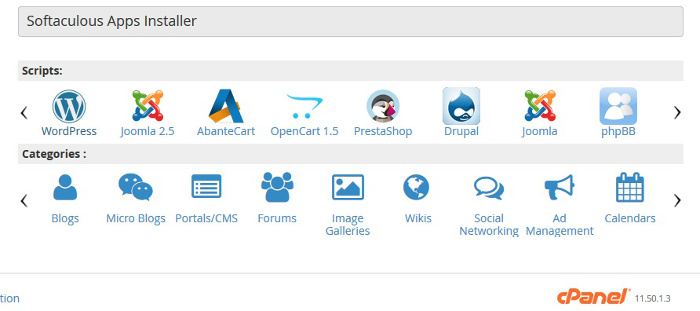 Next, you will be viewing a page similar to this (below). Click the install button, fill out the form with your website information and click to install WordPress. The process will only take a few minutes and your blog will now be setup to start using!

Start Blogging
After familiarizing yourself with the WordPress Blog Platform, it's time to start customizing your blog. You can choose your preferred theme or upload a premium WordPress theme. You can add plugins to help with the various aspects of your blog including SEO, creating sitemaps, and social media sharing buttons. Once you have the basic setup you like, it's time to start blogging!
It is highly recommended that you have at least five pre-written articles for your blog before you ever get started with the process of starting a blog. This way, you can quickly add the content to your blog, so that visitors know what the blog is about and then have something to read. Keep your blog updated regularly as readers love fresh content. I would recommend writing 1-2 blog posts a week to keep your blog content fresh.
Now that you have your blog setup, it's time to start sharing your posts with friends and family and getting readers to your blog. Stay tuned for future articles on how-to use WordPress, how-to make money blogging and how-to get traffic to your blog. All these topics require their own article!
As you can see it's relatively easy to start a blog. First, come up with an topic. Second, register a domain name. Third, purchase a hosting plan. Finally, get going with your blogging!
If you have any questions about starting a blog, feel free to ask them in the comments section below.