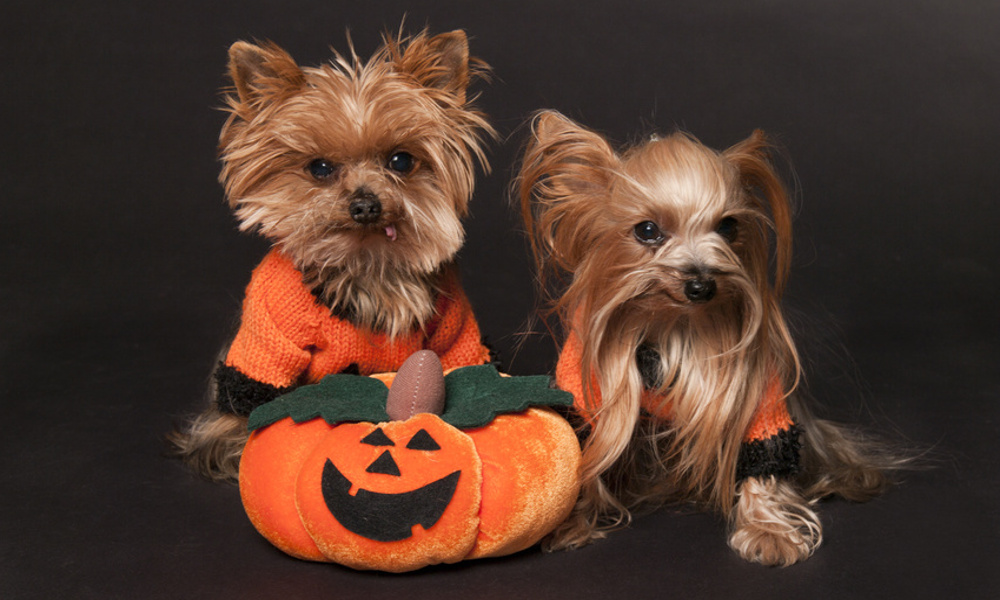 There is nothing funnier than a dog wearing a costume. They give their sad look while staring back at you wondering, why? The answer is that it is awesome! Let your dog be the top pooch this Halloween by shopping for a hilarious or cute dog costume. From dog sunglasses to doggie wigs, and pumpkins to the King of Pop, find the perfect costume this Halloween for your dog.
To help give you some ideas, we offer our list of the top 10 dog Halloween costumes in 2016 to help give you some ideas of what will be popular this year.
Ghostbusters Dog Costume
The popular film, Ghostbusters, made a return to the big screen this past summer, so it makes sense that Ghostbusters costumes are seeing a surge in sales. There is nothing more adorable than a classic movie outfit for dogs.
Star Wars Yoda Dog Costume
May the force be with your pooch as they don the look of Yoda. With the latest Star Wars movie release last year, Star Wars costumes will be extremely popular this year. From the front, your dog will be unrecognizable as Yoda this Halloween.
Where's Waldo Dog Costume
If your dog loves hiding from you in your house, the Where's Waldo costume might make it a bit more difficult to find them. However, for those that have mastered finding Waldo in the classic books, the task of finding your pooch shouldn't prove too difficult. It's just the costume your pet needs for Halloween, pet pawties or just because it's pawsitively cute!
Pumpkin Dog Costume
When you think of Halloween, the first thing that often comes to mind is a pumpkin with a carved face. Why not dress your pooch up in a classic jack-o-lantern costume. This adorable pumpkin costume is perfect for any dog.
UPS Dog Costume
Are you expecting a package soon? Well, if it's not being delivered by your dog, you are truly missing out!
Despicable Me Dog Costume
Your kids love the Despicable Me movies, so why wouldn't your dog? After all, they probably have seen the movie themselves, since your kids likely put the movie on repeat at your home. Better yet, get your children matching Despicable Me costumes this year!
Princess Dog Costume
You probably already think your dog is the cutest, so is it possible to make them even more adorable? Yes! The princess costume is perfect for your female dog or puppy this year.
Butterfly Dog Halloween Costume
This springtime outfit will make your pup absolutely adorable. The Beautiful Butterfly Costume for Pets is a black, orange, and yellow dress with an attached skirt and butterfly wings on the back. Everyone will be mesmerized by your dog's cuteness.
Witch Dog Halloween Costume
Witches are another classic of Halloween and make the perfect costume for your dog. Just be careful, your dog might put a spell on you if you don't give them plenty of treats this Halloween!
Paw Patrol Dog Halloween Costume
This costume just makes sense. The popular TV show your kids watch, makes for a great costume idea for your pooch.
"Let's go!" — Ryder
Now that you have seen our list, what pet costumes are you looking for or plan to buy for your dog this year? Share your dog costumes or costume ideas with other dog lovers by commenting below.