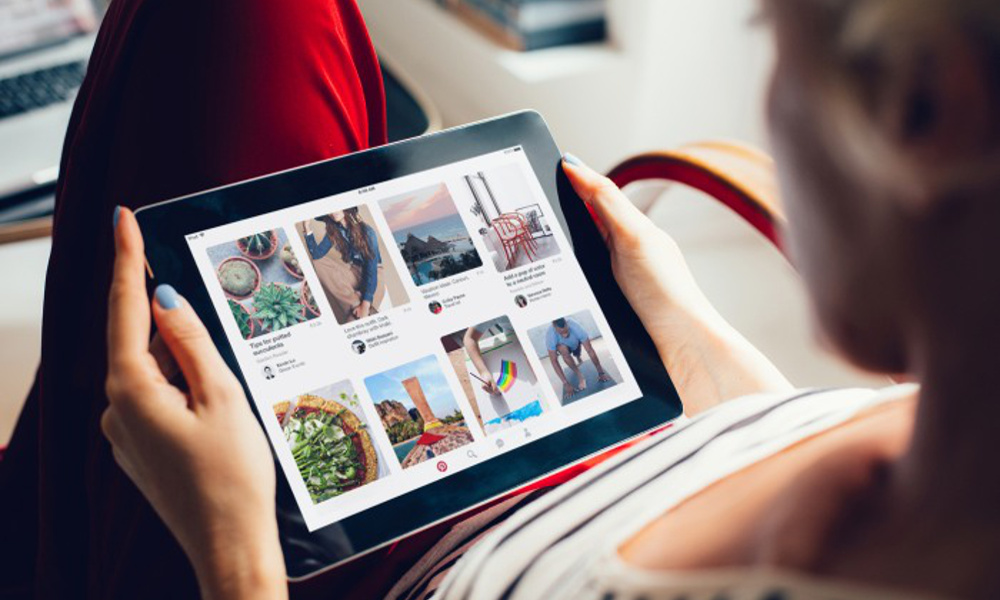 Are you an avid pinner on Pinterest? Do your curated boards have a large following with multiple saves and likes for each of your pins? You might be what the industry calls an influencer, which is good news if you want to monetize your curated content on Pinterest. Even if you are just starting out on Pinterest, there is a way to make some extra money each month sharing pins and this article will show you how.
Pinterest Now Allows Affiliate Links
Last week, the business blog for Pinterest shared something that will excite affiliate marketers, influencers, stay-at-home moms/dads and others looking to make a few extra bucks each month sharing fashion, travel and recipes on Pinterest. The popular social media website announced they would once again allow affiliate links on their site.
For those that don't recall, back in early 2015, Pinterest decided to remove pins and even ban some users that were posting affiliate links. This decision came after a rise in abuse by spammers in which these users would simply post as many products with affiliate links as possible in order to maximize their earnings. Now that Pinterest has improved their spam filters, they will once again be allowing businesses and bloggers to post pins with affiliate links as they are better able to detect spam.
How To Make Money On Pinterest
If you already are an affiliate marketer, you probably are familiar with how to grab the links you need to post on Pinterest. For those bloggers, stay-at-home mothers/fathers and others looking to earn money on Pinterest, here are a few great companies that offer affiliate links for thousands of merchants: Viglink, Skimlinks and Prosperent (recently acquired by Viglink)
Once you have signed-up for one of these publisher services, it's time to start pinning. Here are a few popular Pinterest board ideas that are sure to maximize your pin views, followers, saves and likes on Pinterest.
Popular Pinterest Board Ideas
Fashion: Share your favorite women's dresses, high heels, outfits, swimwear and intimates with your followers. Women's fashion is quite popular on Pinterest as women are always looking for their next outfit of the day or night. Expand your reach sharing men's fashion too! There are plenty of fashion retailers and online boutiques (e.g. Nordstrom, Forever 21) you can monetize with this board idea.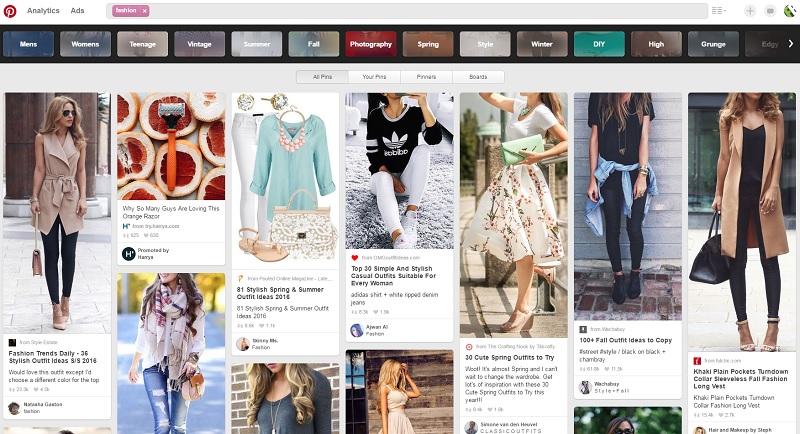 Source: Fashion Search on Pinterest
Travel: Everyone is always looking for their next great vacation getaway. By sharing travel locations with high quality images, you are sure to get a lot of saves and likes. Share a few exotic destinations and mix in a few of your favorite travel destinations. There are plenty of online travel booking websites (e.g. Expedia, Priceline) you can use to monetize this board idea.
Source: Travel Destination Search on Pinterest
Recipes: Those that love cooking, love discovering tasty recipes. Share delicious food and cocktail recipes with your followers. There are plenty of online food delivery services (e.g. Blue Apron, Nutrisystem) that share their weekly food offerings (and recipes) and you can monetize these pins when someone signs up for their meal service.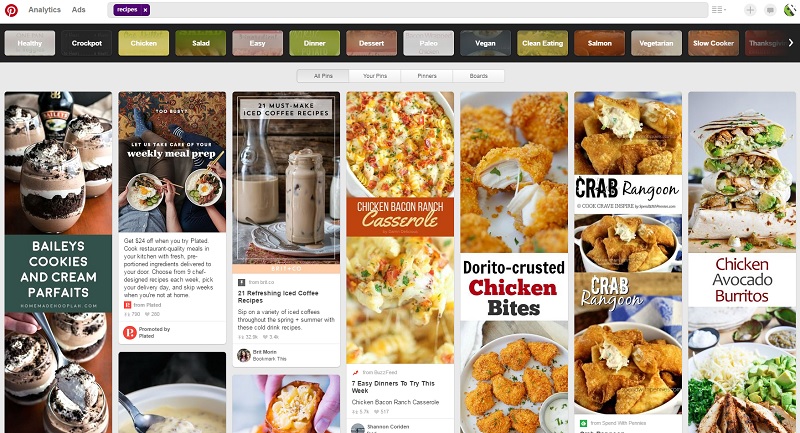 Source: Recipe Search on Pinterest
Share a few affiliate links every so often, but be sure to explore what others are pinning. Save the pins that interest you and like a few others. You are curating content that you are interested in and eventually like-minded individuals will discover your pins. Just don't become a spammer!
This is obviously a great opportunity for many to make money on Pinterest, but it definitely benefits Pinterest. They rely heavily on their community of pinners to create wonderful, curated boards. This change in their policies will give influencers and bloggers incentive to post more often on Pinterest, thus improving the usefulness of their site.
With so many other popular Pinterest categories, simply find your favorites and get to sharing! Most importantly, share what interests you the most.
What are your thoughts on this policy change? How do you anticipate it affecting the content that can be found on Pinterest? Share your thoughts with our readers below.