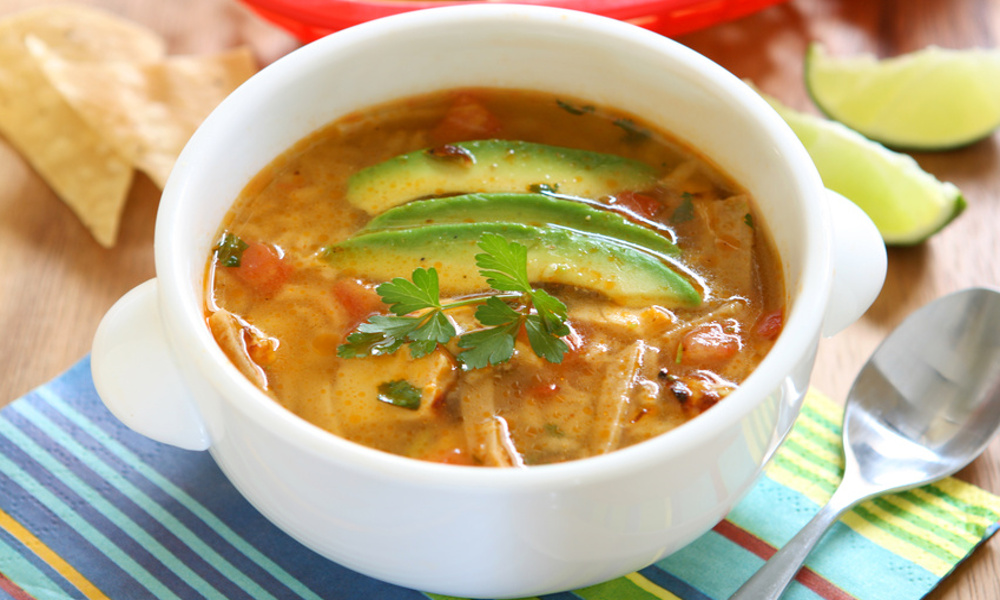 This chicken tortilla soup is so delicious. Blending chicken with onion, tomatoes and corn, along with hominy and tasty south of the border flavorings like garlic, oregano, beans, and chilies, the resulting soup is sure to please the whole family. Our recipe makes 8 servings and you can enjoy it for lunch or dinner. If you have some left over, gently reheat it the following day. Feel free to tweak the ingredients if you want to adapt the soup. You can swap the chicken for turkey, the black beans for kidney beans, or the green chilies for red ones if you wish. If you are in a hurry, you could even swap the homemade tortilla strips for crushed tortilla chips, but the strips are better because that is more authentic.
Our Amazing Chicken Tortilla Soup Recipe
What You Will Need:
28 oz can crushed tomatoes
10½ oz can condensed chicken broth
1¼ cups water
1 chopped onion
3 minced garlic cloves
1 teaspoon dried oregano
1 cup white hominy
4 oz canned chopped green chilies
15 oz can black beans, rinsed and drained
1 cup cooked corn kernels
2 teaspoons chili powder
¼ cup chopped fresh cilantro
2 chopped, cooked boneless chicken breast halves
1½ tablespoons olive oil
1 flour tortilla
Shredded Monterey-Jack cheese, sliced avocado, and chopped green onions, to serve
Tortilla Soup Recipe
Heat 1 tablespoon of the oil in a pot over a moderate heat. Sauté the garlic and onion until soft, then stir in the tomatoes, broth, water, oregano, and chili powder. Bring the soup to a boil, then simmer for 5 to 10 minutes. Meanwhile, preheat the oven to 425 degrees F. Cut the tortilla into ½-inch strips and then cut those in half. Put them on a rimmed baking sheet and toss with ½ tablespoon of oil and some salt and black pepper. Spread in one layer then bake for 8 to 10 minutes or until golden brown and crisp. Stir the hominy, corn, chicken, cilantro, and beans into the soup, then simmer for 10 minutes. Serve the soup hot, garnished with the tortilla strips, cheese, avocado, and green onions.
For those that love Tortilla Soup, what are your favorite ingredients to add that make your version awesome? Share your recipes or tips for making Tortilla Soup in the comments section below.