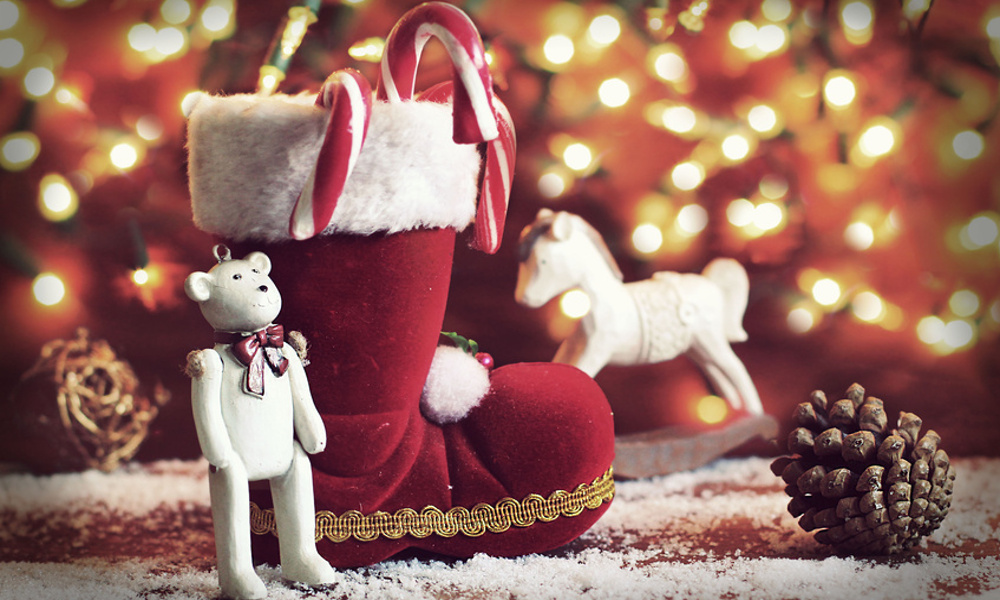 Shoppers will spend the next few months shopping, compiling their gift or wish lists, or at the very least prepping their homes for the upcoming Holidays. Most Holiday shoppers will establish a budget for the gifts they need this year, but many will fail to account for the Holiday essentials that are also needed. These items include wrapping paper, Christmas cards, serving dishes, and small stocking stuffers.
Usually shoppers focus on the bigger gifts when considering a budget, but these small Holiday necessities can really add up, and even break your budget. To help you avoid having this issue, consider these ten items that can be bought at your local dollar stores often just for $1.
Stocking Stuffers
You can find plenty of small items for under a buck that are the perfect stocking stuffers. For little kids, consider getting candy, pencils, stickers, and more. You can even grab a few toys for around a buck; however, the quality might be suspect with these toys, so you may want to stick to the first items listed.
Ornaments
Touch up the look of your Christmas tree this year with some new Christmas ornaments. You can often buy $1 ornaments or even packs of ornaments that save you money. They are about the same in terms of quality and design you might find at WalMart or Target, but will cost much less at the dollar store.
Paper Plates & Napkins
If you are like us, cleaning the dishes after a Holiday meal is a pain! You want to spend the time hanging out with family and friends, so you need a way to avoid dish washing. Paper plates and napkins are a great way to save time on clean-up, plus you can find a selection of Holiday-themed items for $1 at dollar stores. If you want sturdier disposable plates and bowls, try your local warehouse stores and you can buy in bulk for less.
Holiday Mugs
Filling a Holiday mug with candies or other small items is a great gift idea for your child's teacher or a co-worker. These mugs will typically cost you about a buck at the dollar store, and add in the price of candy and you can give a thoughtful gift that costs you a few dollars. This is a great idea especially for those that have to hand out gifts to a large number of staff or co-workers, say a school Principal gifting these festive mugs to all the teachers and staff at the school.
Christmas Cards
You should plan ahead when buying Christmas cards as you can find a great selection of Christmas cards for $1 at dollar stores. Consider the cost of one card at a drugstore or supermarket (about $5), and the savings are clear.
Wrapping Paper & Bags
When buying gifts for your kids or other family members, consider saving any bags that did not get damaged while unwrapping gifts. For those that do not have this luxury of saving last years bags, there are plenty of gift wrap rolls and gift bags that can be found for less than a dollar at most dollar stores. Compare this to the three-plus dollars you would pay at most retailers.
Disposable Bakeware
You are going to be doing a lot of baking this Holiday season, so consider aluminum bakeware as you can save time on clean-up. One of the worst things to clean is that baked, burnt pan that you cannot remove with scrubbing and soaking in soapy water. You can find a selection of disposable bakeware for $1 at most dollar stores.
Serving Dishes
Dollar stores often have cute and festive serving platters perfect for displaying tasty treats and desserts. If you are looking for an easy gift idea, consider baked goods and one of these decorative dishes as a gift.
Picture Frames
Grandparents love displaying pictures of their grandkids, so why not give them a beautiful picture frame to display these family memories. You can find a selection of simple picture frames for $1 at dollar stores. Consider getting more than one, think one per grandchild, as your parents will love talking about the grandkids when they have their friends over.
Holiday Decorations
Holiday bows and other small decorations are great buys at dollar stores. Find great Holiday decor for the home for less than you would buy at other retailers.
Now that you have seen our list of Holiday essentials for $1 at dollar stores, share your favorite items to buy at dollar stores during the Holiday season. Post your favorites in the comments section below.