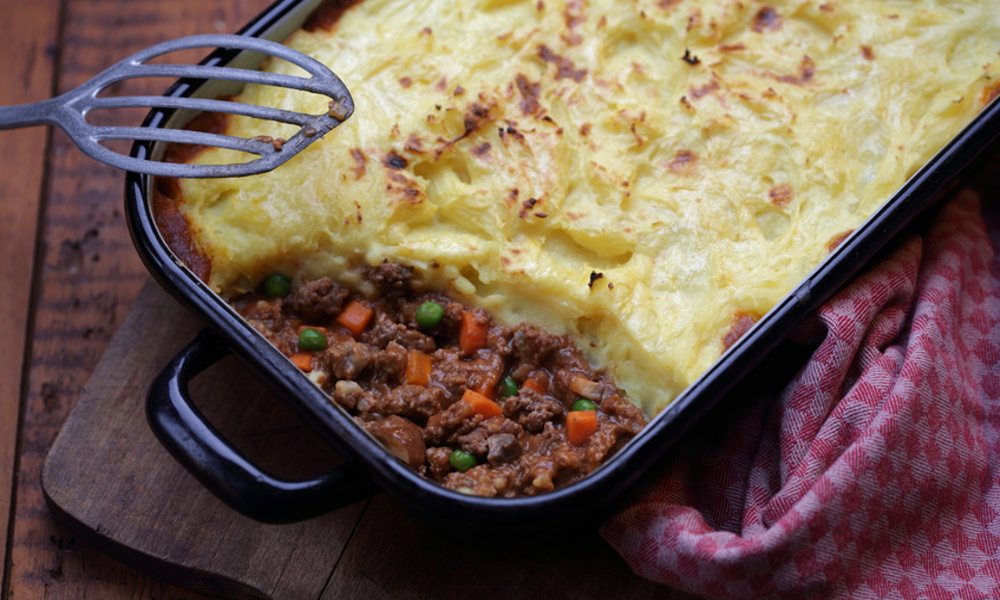 This classic British dish is just the kind of meal we dream about during the cooler months. Blending ground lamb with mashed potatoes, vegetables, cheese, and simple seasonings, shepherd's pie is easy to make, and sure to appeal to every member of the family. Any leftovers can be reheated easily enough the following day for a tasty, hot lunch.
You can simplify your shepherd's pie recipe further by using instant mashed potatoes instead of making them from scratch, but leave out the milk if you do that so they are quite thick. You could even use leftover mashed potatoes from the previous day.
Frozen vegetables are great in this recipe; just thaw them in the refrigerator overnight. Alternately you can use fresh veggies. Finely dice carrots and then add those along with some peas, or try some drained, canned corn kernels in there to boost the nutrient count of the dish.
The name 'shepherd's pie' comes from the fact this dish is made with ground lamb. If you prefer to use ground beef the finished dish will be a 'cottage pie' instead, but it will be equally tasty. Although this is a complete meal in itself, you might wish to serve warm crusty bread on the side, or even an extra vegetable such as broccoli or green beans. This recipe makes 4 generous servings.
Quick and Easy Recipe for Shepherd's Pie
What You Will Need:
1 lb lean ground lamb
2 cups hot mashed potatoes
3 or 4 cups thawed mixed vegetables
2 oz cream cheese, in cubes
1 cup lamb or beef gravy
1 cup shredded cheddar/mozzarella mix
Salt and black pepper, to taste
2 minced garlic cloves (optional)
How to Make It:
Preheat the oven to 375 degrees F. Brown the lamb in a skillet, then drain off any fat. Stir the potatoes with the cream cheese, garlic (if using) and 1/2 cup of the cheese, until well blended. Combine the drained ground lamb with the vegetables and gravy, and add a little salt and black pepper to taste. Transfer this mixture into a 9-inch square baking dish. Spoon the potato mixture over the meat mixture and smooth it down, then add the rest of the cheese on top. Bake for 20 minutes or until piping hot.
What are some of the ingredients you use in your shepherd's pie recipe? Share your favorites in the comments section below.