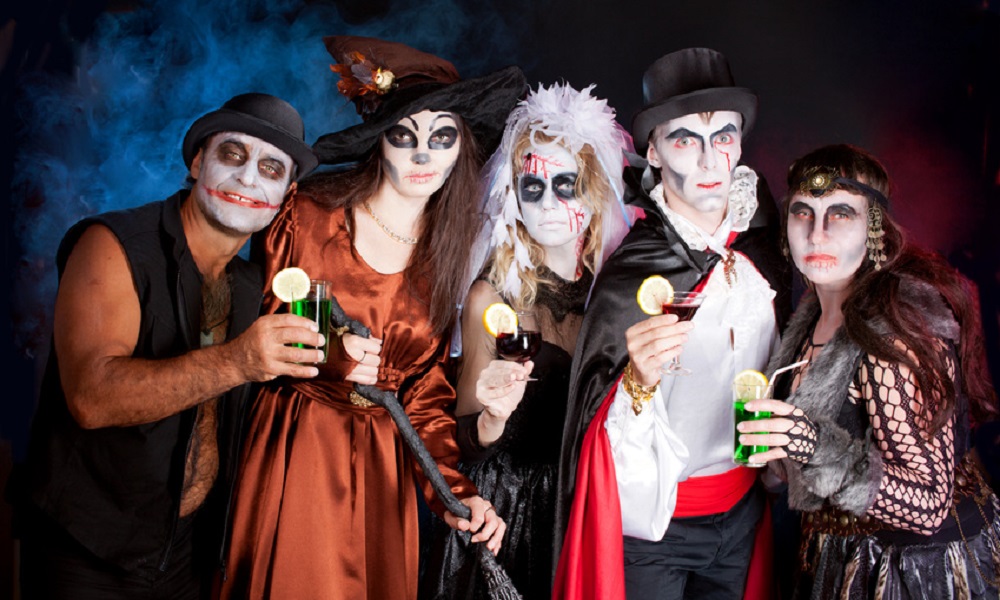 How many of you have attended Halloween costume parties in the past, and witnessed the hilarity that is the couples costume? It's really something to consider this year, as it creates a bond between you and your partner. With that said, there are tons of costume ideas out there for couples to choose from, so be sure to search around for the costume theme that works for you and your partner. This year is your chance to be creative, funny and to get all the attention at the Halloween parties you attend! To help you narrow your search, we have compiled a list of our favorite couples costumes themes perfect for Halloween 2016.
Grease Costumes
It probably wasn't long ago that your partner caught you singing the hit song from Grease, Greased Lightning. Rekindle that special, albeit hilarious moment by rocking some vintage attire this Halloween. A pink satin jacket for her and a black leather jacket for him is what you will need to complete this couples look. Don't forgot to spend some time on your hair!
Suicide Squad Costumes
One of this summer's blockbuster movies was that of Suicide Squad. Featuring several popular comic book characters, Joker and Harley Quinn, it's easy to see why this duo will make a great couples costume this Halloween. Rebel against the cute Halloween looks this year and rock something a bit more hard looking.
Political Costumes
If you haven't been following the news lately, it's an election year! As the two candidates, Hillary Clinton and Donald Trump, face off in heated debates, you can show your support (or mockery) for the presidential candidates. Each of you can wear one of the over-the-head masks, but be sure to complete the look with the appropriate attire. If the two presidential candidates don't fit your liking, there are plenty of political figures (masks) to choose from.
Alice Through The Looking Glass Costumes
Inspired by the popular 2016 film, Alice Through The Looking Glass, the Mad Hatter and Red Queen costumes are flying off the shelves! These magical looks are perfect for couples this Halloween. You can even dress up in the more traditional Alice in Wonderland costumes and still be relevant this Halloween.
Little Red Riding Hood & Wolf Costumes
A classic story we all have heard is that of Little Red Riding Hood. Her classic look is the perfect costume idea for women each and every Halloween. Have your partner dress up as the big bad wolf and you have a great couples costume idea this Halloween.
Historical Costumes
There are a ton of decade specific costumes that are perfect for Halloween (e.g. 1970's & 19080's), but if you go back a few decades you will find another great historical look. Think back to the time of the mob. A women's sequin dress and a striped suit for him will complete the look for this historical couples costume idea.
Day of the Dead Costumes
For those looking for a cultural couples costume idea, look no further than the Day of the Dead costumes. The Mexican Holiday, Día de Muertos, is celebrated in Mexico and the United States by those with Mexican ancestry. For women, you can look like one of the Calavera Catrina dolls that are popular decorations at graves and altars for the departed and for men, a classic skeleton-styled suit will complete this couples costume look.
The Simpson's Costumes
There are a few great couples on popular TV shows that would make the perfect couples costume. Our favorite happens to be from The Simpson's. Marge and Homer are recognizable characters and these colorful costumes are the perfect match for couples each and every Halloween.
Superhero Costumes
There are plenty of superhero couples costume ideas, but none is more relevant than Supergirl & Superman. In late October 2016, The CW is set to release the highly anticipated TV show, Supergirl, which means this costume will be extremely popular this year. You're are a superhero couple so why not let everyone know!
Oktoberfest Costumes
For those couples looking for the perfect costume for beer drinking activities, the classic Bavarian, Oktoberfest look is always the perfect Halloween idea. Grab your lederhosen and suspenders, your beer stein and enjoy the Halloween parties throughout October.
Now that you have seen our list, what couples costume(s) are you looking for this year to wear to all of your Halloween costume parties? Share your costumes or costume ideas with other couples by commenting below. Explore more Halloween Costume Ideas for Couples.