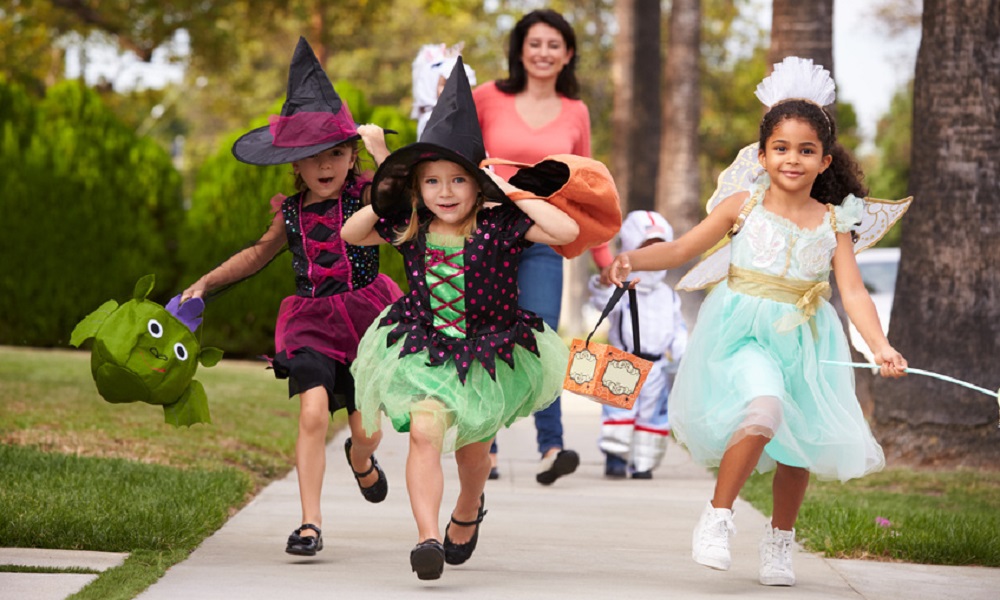 That spooky time of year is here! Halloween is sure to be a wonderful Holiday for your little princess with all the trick-or-treating and costume dress-up fun. The popular Halloween costumes for girls this year feature many of the classics (e.g. Disney Princesses) and what's buzzing in pop culture and movies. In addition to the classics, many of the popular kids movies & blockbuster films this year had strong female characters that are sure to be a costume hit, such as Ghostbusters and Finding Dory. Without further ado, we offer our list of the best Halloween costume ideas for girls in 2016 to help give you some ideas of what will be popular this year.
Finding Dory Costumes
The lovable characters from the hit Disney/Pixar film, Finding Nemo, made a return to the big screen this summer in the release of Finding Dory. Popular costumes will include Nemo, Hank and of course, Dory.
Star Wars Costumes
Throughout its long and storied history, Star Wars has always featured strong and powerful female characters (e.g. Princess Leia). The Latest film, The Force Awakens, features Rey, a strong woman, that is sure to be popular with young girls this Halloween.
Ghostbusters Costumes
Ghostbusters made a return this summer with a female cast and a message of empowering women and young girls, thus it has topped many best selling costume lists so far this year. As the years go by, Halloween will always be a good time to rock a Ghostbusters jumpsuit, since it has solidified its mark as a classic brand (film collection).
Superhero Costumes
Superheroes have long been considered a costume popular only with young boys, however, that is changing. DC Comics and Marvel have recently started featuring strong female superheroes that are popular with girls including Harley Quinn and Supergirl. As these films are released on the big screen, you can be certain these new female characters will make popular costumes.
Disney Princess Costumes
Over the years, these royal and magical characters have inspired many young girls to dress-up as their favorite princess during Halloween and throughout the year. One can never go wrong with a classic Disney Princess costume!
Pokemon Costumes
Pokemon has recently made a huge splash with young fans as the popular app, Pokemon Go, has everyone trying to catch them all. Popular Pokemon costume ideas include Pikachu, Squirtle, Jiggly Puff and Eevee.
Zootopia Costumes
Zootopia quickly became a blockbuster success over the last year and is topping many Halloween costume lists as a best seller. Judy Hopps is the main character in the animated film and inspires everyone to never give up and never give in. Young girls are sure to love rocking this Zootopia costume.
Shopkins Costumes
The popular toys feature many characters that are beloved by their fans. This year, Shopkins costumes are quickly becoming popular with young girls.
Classic Halloween Costumes
Halloween is not just about dressing up as your favorite character or pop culture icon, it does have some notable figures. From witches to black cats, pumpkins to skeletons, Halloween can be a spooktacular time of year. This year, your young girl might love a classic witch or pumpkin costume.
Alice Through the Looking Glass Costumes
Alice returned to the whimsical world of Underland after traveling through a mirror and meeting up with classic Alice in Wonderland characters including Mad Hatter, Red Queen, Tweedledee and Tweedledum and of course, Chesire Cat. Although Alice and Chesire Cat costumes are always popular during Halloween, the Red Queen costume is gorgeous and will be the perfect Halloween costume idea for young girls this year.
Now that you have seen our list, what costume(s) are you looking for or plan to buy for your little one this year? Share your Halloween costumes and/or costume ideas with other parents by commenting below. Explore more Halloween Costume Ideas for Girls.