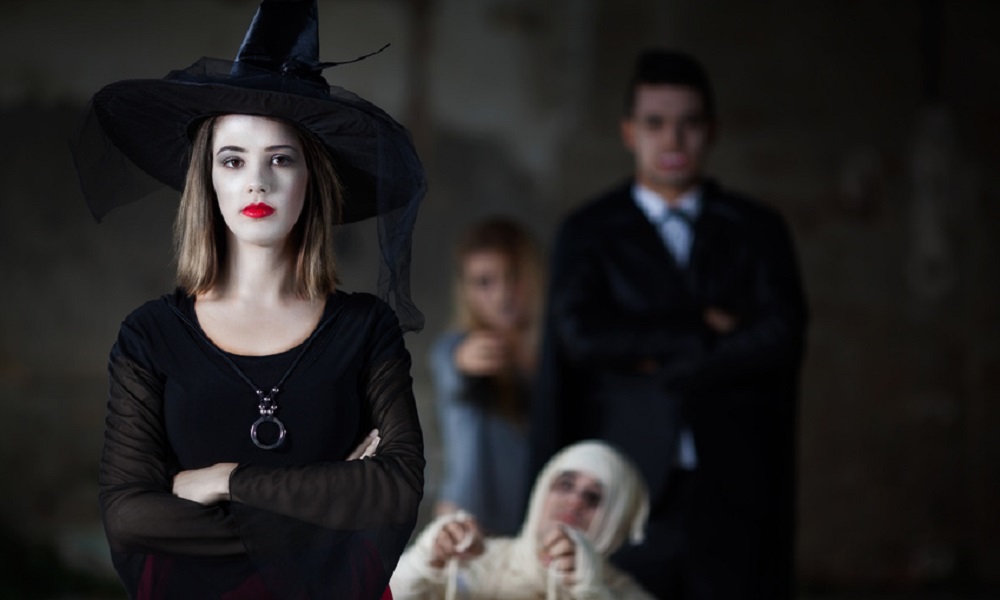 Dressing up for Halloween has long been a tradition that many kids at heart take into their adult life. It's worth mentioning though that many of these costumes become a bit more risqué, while still keeping the traditional costumes of youth available for adults. This year, the selection of Halloween costumes for women continue to rise in number and popularity. The summer blockbusters always bring about new female characters popular come Halloween time, and this year was no different with the likes of the character Harley Quinn and a return to Ghostbusters. Perhaps being a superhero is not your fancy, so why not stick with a few traditional costumes like a Marilyn Monroe costume or a disco diva.
The possibilities are endless when thinking about your costume for Halloween. Be creative and have fun! This year, consider a costume that you might be able to use more than once. Consider what costume parties you might attend in the future and you can get a costume you will wear more than once. To help give you ladies some ideas, we offer our list of the top 10 women's Halloween costumes for 2016.
Suicide Squad Costumes
The last few years have seen a rise in female comic book characters hitting the big screen and the recent release of the film, Suicide Squad, continued this trend. If you enjoy painting the town red, the Harley Quinn costume would be perfect this Halloween.
Ghostbusters Costumes
Ghostbusters made a return to the big screen this summer featuring a female cast and became a hit with many new fans. So if you're into busting ghosts, dressing up in the classic Ghostbusters jumpsuit and backpack, will get you all the attention at Halloween parties this year. This costume is available for curvy women too!
Pokemon Costumes
You might not be playing the hit app, Pokemon GO, but we are certain you are aware of the madness surrounding its release. Thus, Pikachu will be a popular costume idea with fans of Pokemon this Halloween. Not only can you find this costume (below) at most online retailers, you will find Pikachu jumpsuits and dresses that work well for Halloween parties.
Classic Scary/Horror Costumes
Halloween features a ton of classic characters from scary/horror movies, which means the costume you grab this year for Halloween will work in future years. A few ideas include the Wicked Witch costume and Freddy Krueger costume.
Finding Dory Costumes
If you are looking for a cute costumes, look no further than something from Finding Dory. This hit film is mostly going to be a popular costume idea for kids, but parents can enjoy wearing a Dory or Nemo costume too.
Back In The Day Costumes
There are a number of costumes available by decade, so this will always be an easy choice every Halloween. Perhaps the most popular are the 1970's and 1980's, however, you can find costumes that fit the 1920's period. If you don't want to buy a decade specific costume, perhaps you can go through your closet or visit a thrift store for the appropriate look.
Alice Through The Looking Glass Costumes
Another hit film released early this year was Alice Through the Looking Glass. This film features many classic characters from Alice in Wonderland, including Alice, Cheshire Cat and Mad Hatter, which means these will be popular costume ideas for women this Halloween.
Little Red Riding Hood Costumes
A classic fairytale costume is always a great idea for Halloween, which is why we like the Little Red Riding Hood costume. You can rock a sexy look with this costume or opt for a bit more conservative look. There are plenty of different costumes to choose from if going with the Little Red Riding Hood look this Halloween.
Classic Halloween Costumes
What do you think of when you think about Halloween? Besides the candy, you likely think about the Halloween classics including witches, pumpkins, skeletons, ghosts and so much more. These types of costumes are perfect each and every Halloween, which means you can wear a classic witch costume this year and future Halloween's.
Oktoberfest Costumes
If you are into celebrating Oktoberfest, the classic Bavarian look will make a great Halloween costume. Like the Little Red Riding Hood costume, you can choose between a conservative or sexy look with this costume idea.
Now that you have seen our list, what costume(s) are you looking for this year to wear to all of your Halloween costume parties? Share your costumes or costume ideas with other women by commenting below. Explore more Halloween Costume Ideas for Women.