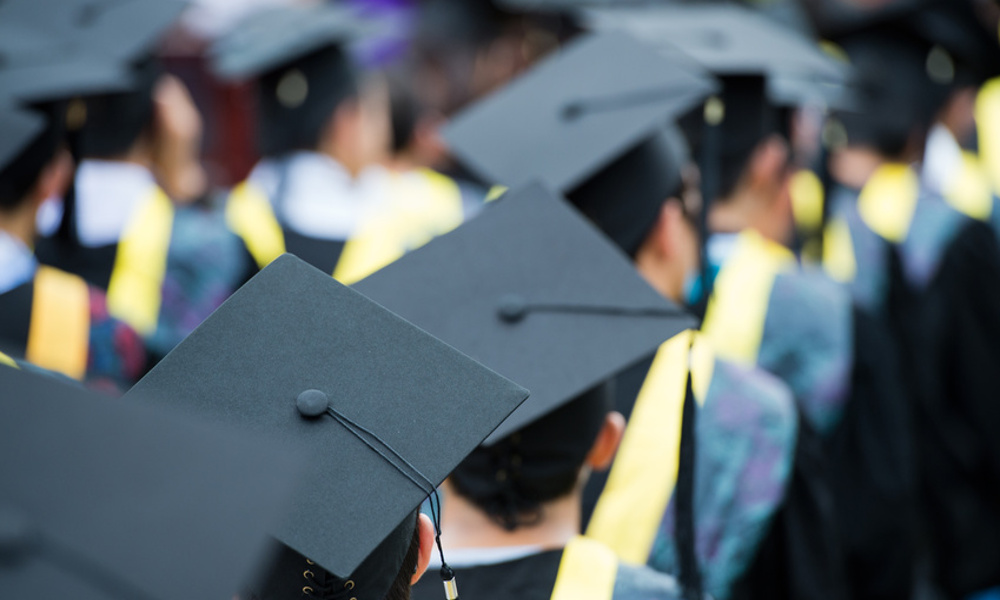 It's that time of year again. The wait is finally over for the thousands of soon-to-be graduates finishing up their degrees. The excitement is palpable. As you and your family head to graduation it's probably a good idea to be prepared, well, at least prepared in the gift giving sense. From flowers to graduation cards, personalized picture frames to jewelry, shopping online for graduation gifts offers a great way to save.
Many of the retailers we will soon feature in our top 5 list, can certainly expedite your order if you failed to plan ahead, but browse these sites in advance, to ensure you find the perfect graduation gift.
Without further adieu, here are 5 of the best shoppes online to shop for graduation gifts:
Amazon.com is full of amazing deals all year-round. During special events & holiday occasions, Amazon always does a great job of organizing products and deals appropriate to that occasion. As for graduation gifting, they do not disappoint. They currently have a page dedicated to featuring the best books, electronics, jewelry, and more to help with graduation gift shopping. This page will help you quickly narrow your search for the perfect gift. However, if you wish to shop for personalized graduation gifts, you will have to search for those using their search bar, as they do not showcase quick links for those products on this page.
If you aren't sure what the recent grad might want, you can browse their most-wished-for items. If you are simply looking for great deals, shopping on Amazon is the perfect solution. What are you waiting for? Explore ideas and get the perfect gift on the Amazon Graduation Gifts page.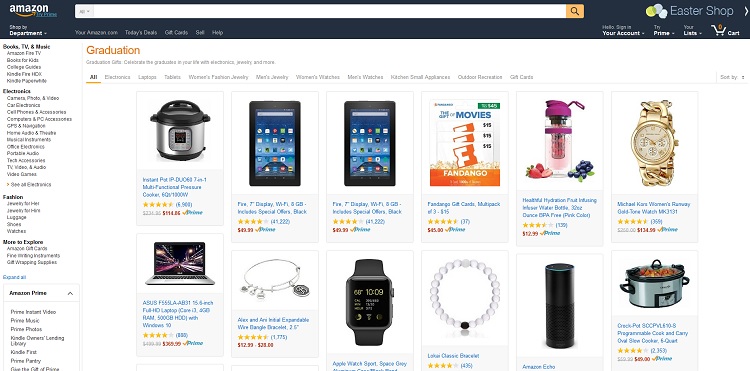 Source: Amazon
1800Flowers.com is your source for beautiful fresh flowers for grads of all ages and degree levels. After all, what would a graduation celebration be without flowers! They offer a variety of colorful bouquets and delectable treats, which is a great gift for a recent graduate. You can even have them personalize the vase to make it a more memorable gift.
For those looking for last minute floral gifts, 1800flowers.com is likely to be the perfect solution. They can deliver the flowers the same-day using their extensive local florist delivery network. In addition, they are always featuring sales and deals, which is perfect for the budget conscience graduation gift giver. Check out their selection of graduation gifts and flowers by visiting 1800flowers.com.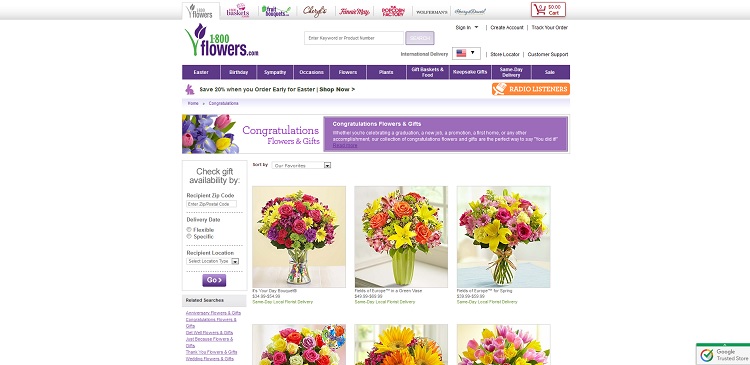 Source: 1800Flowers
For those looking for the personalized touch, these next three gift shoppes will surely be right inline with what you are looking for:
PersonalCreations.com offers a variety of personalized gifts for all the special occasions in your life, including of course graduation. From personalized picture frames to graduation bracelets, graduation napkins to keepsake boxes, this is an excellent site for everything personalized. The pricing is usually decent and they tend to offer discounts, so always be on the lookout for Personal Creation coupons. Shop online for graduation gifts by visiting Personal Creations.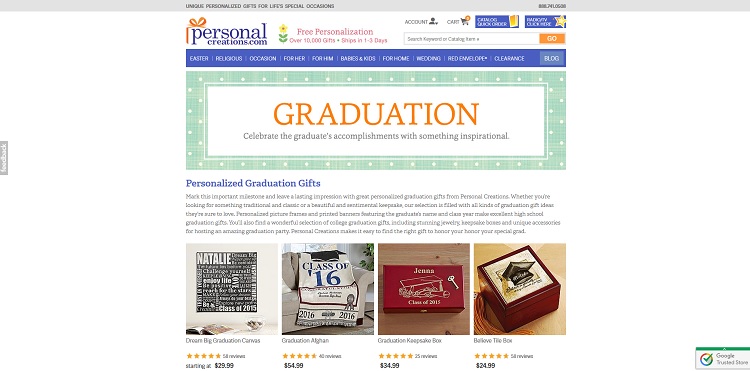 Source: Personal Creations
PersonalizationMall.com is a great place for personalized gifts for any celebration or event. They feature a wide variety of graduation gift departments to help you narrow your gift search, including favorite graduation gifts, keepsakes & novelties, desk & business accessories, graduation invitations & accessories, and so much more.
They make it easy to browse products by categories when you are unsure of what the perfect gift might be. Since many of the gifts allow for personalization, the graduate will be sure to know you put a lot of thought and effort in getting their graduation gift. Hurry over and check out the graduation gifts on PersonalizationMall.com.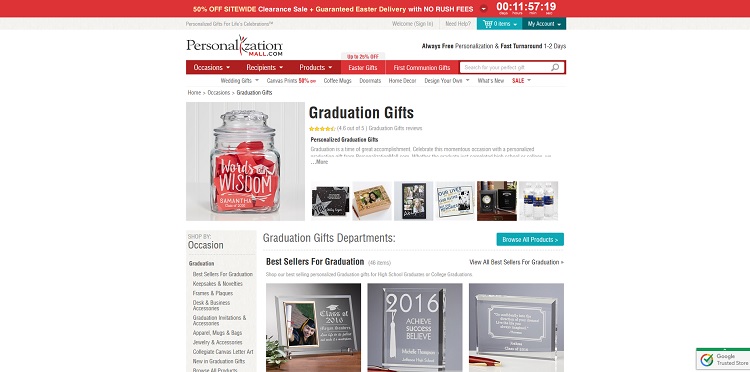 Source: Personalization Mall
ThingsRemembered.com is a popular online retailer, with numerous physical store locations near you, selling a variety of gifts for all occasions. You can shop online and pick up in-store or browse a selection of online exclusive deals. They do a great job of highlighting the most popular graduation gifts, and even offer a top grad gifts ideas page. Many of the items on their site allow personalization so you can engrave your words or congratulatory message onto the item, so the graduate is sure to have something memorable. For any occasion, especially in this case graduation, shop on ThingsRemembered.com for the latest selection of graduation gifts.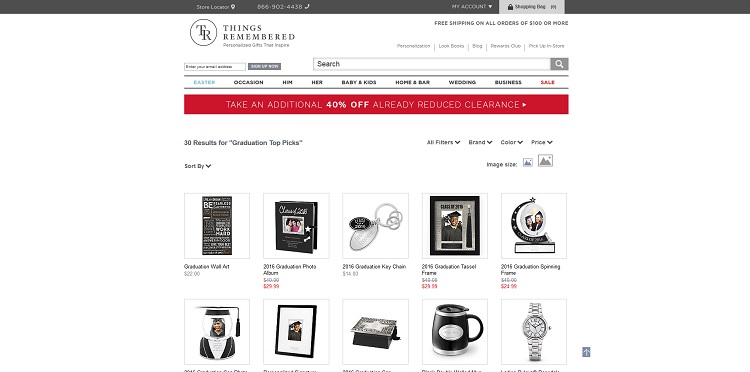 Source: Things Remembered
Have you come across any great graduation gift retailers? Share your favorite stores and/or gift ideas with our readers below.