The Big Lots Black Friday ad was recently released online and features their lowest prices of the year on many items. The twelve (12) page ad features a wide variety of deals on furniture, electronics, Christmas decorations, toys and home decor. The Big Lots Black Friday Sale begins on Thanksgiving Day (7AM – Midnight) with a special one day set of deals. You can also find a selection of deals as part of their "3-Day Deals" event starting on Thanksgiving Day and ending on Saturday. Doors will open at 7AM on Thanksgiving Day, Friday at 6AM and Saturday at 8AM.
When you spend $50 or more during the Big Lots Black Friday sale, you will receive several coupons ($10 off $50+, $20 off $100+ and $40 off $200+) to save on your next purchase (see ad page 2). As with most retailers, the deals featured in this ad are limited so they may sell-out quickly.
For those looking for Holiday gifts and deals on toys, the Big Lots Black Friday sale will be a great place to find what you need.
[mks_button size="large" title="BLACK FRIDAY @ BIG LOTS" style="rounded" url="https://www.biglots.com/" target="_blank" bg_color="#333333″ txt_color="#FFFFFF" icon="fa-tags" icon_type="fa" nofollow="1″]
Big Lots 2018 Black Friday Ad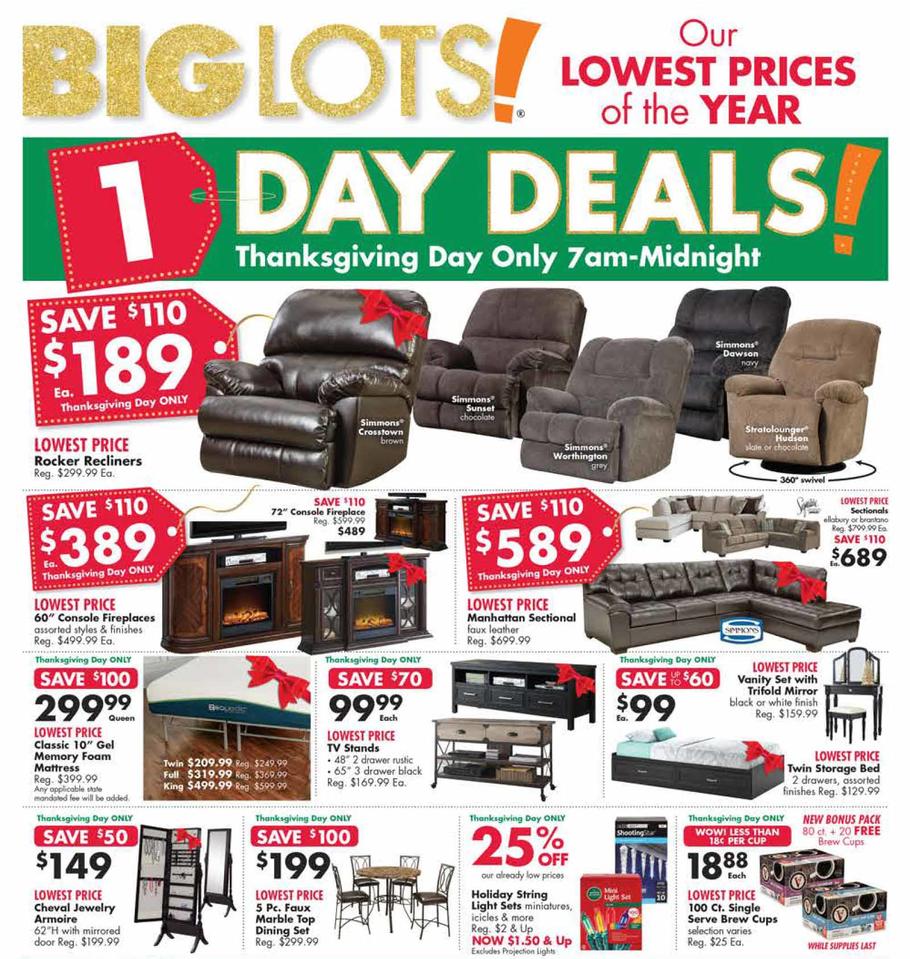 Our Favorite Deal: The Simmons Flannel Charcoal Sofa will be available for $325 (reg. $399.99) during this sale. See page 9 for details. We also like the Simmons Manhattan 2-Piece Sectional Sofa for $589 (reg. $699.99). This item was the same price during the 2017 Big Lots Black Friday sale.

[mks_button size="large" title="BLACK FRIDAY @ BIG LOTS" style="rounded" url="https://www.biglots.com/" target="_blank" bg_color="#333333″ txt_color="#FFFFFF" icon="fa-tags" icon_type="fa" nofollow="1″]