The Tilly's Black Friday page was recently updated on their website with information on the amazing giveaways this year as well as the sales throughout the weekend. When your local Tilly's location opens on Friday, November 25 (check Tillys.com for store hours), the first 100 people in line at each location will get three ultimate prizes. The first is an adidas Black Friday Survival Kit. The second is a mystery prize card with an iPhone 7, MacBook Air, Oculus Rift or Tilly's Gift Card ($5-$500) being the mystery prize! The third is a virtual reality headset. This is limited to one prize package per family and you must be 14 years of age or older to be eligible.
If the giveaway wasn't enough to get you to check out your local Tilly's location, the deals might. Here are some of the promotions expected during the Tilly's Black Friday sale:
Buy One Get One 50% Off on Tees, Sweaters & Joggers
Buy One Get One Free Flannels
2 for $50 RSQ Jeans
Buy One Get One 50% Off Boots for Women
50% Off Nixon Watches
30% Off Select Ray-Ban Sunglasses
For those looking for awesome giveaways and clothing deals this Holiday season, the Tilly's Black Friday sale will be an excellent place to shop this year.
Tilly's 2016 Black Friday Ad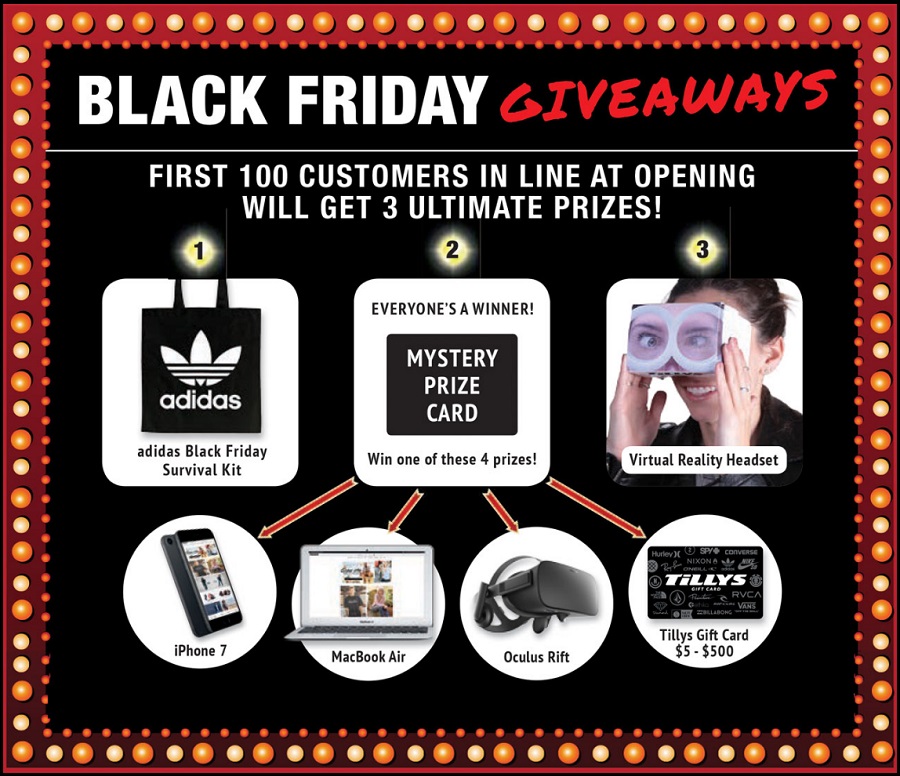 Now that you have viewed the Black Friday deals and giveaways available at Tilly's, what are some of the items you plan to grab during this sale? Share your favorite deals with our readers.