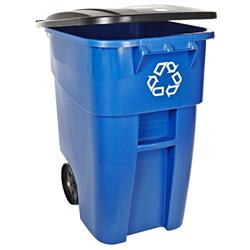 This Rubbermaid Commercial FG9W2773BLUE BRUTE Heavy-Duty Rollout Waste/Utility Container was $94 drops to only $55.53 at Amazon. This deal price saves you 41% off the retail price for this industrial waste/utility container. Plus, this item ships free. This is the lowest price online for this item by about $9. Deal expires July 7. The Rubbermaid Container features a 50-gallon capacity, meets EPA guidelines, blue color, and the dimensions are 36.5″ high by 28.5″ long by 23″ wide. Sales tax is charged in some states.
Item Description
The Brute MDPE rollout trash can has a heavy-duty, one-piece handle that provides a large, strong grip area. Molded-in foot tilter helps maneuver heavy loads.
The trash can's ground-hugging base is designed for stability and the inset wheel position helps to prevent damage to walls and doorways.
Easy mobility makes it ideal for general refuse collection and material handling and contains PCR exceeding EPA guidelines.
Molded-in, reinforced lift points help distribute loads evenly while one-piece body construction provides superior strength and durability.
Compatible with automated and semi-automated lift systems for curbside collection. Made in the USA.