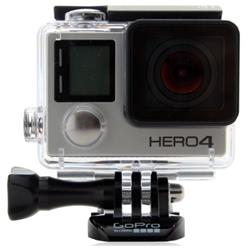 For a limited time, get the GoPro HERO4 Silver Action Camera (CHDHY-401) with touch LCD display for only $329 after a price drop from $399 at eBay. This deal price represents a savings of 17% off the retail price for this camcorder. Plus, this item ships free. This is the lowest price we could find online by about $50. The GoPro HERO4 Silver Camera features HD video recording, touch-screen display, ultrawide-angle glass lens, 12MP still image resolution, time lapse mode, and with the standard housing is waterproof up to 131 feet. Sales tax is not charged in most states except NY.
Item Description
Capture your world with the GoPro HERO4 Silver – the first GoPro with a built in touch screen display.
The HERO4 Silver delivers Full HD 1080p at up to 60 fps, and up to 4K at 15 fps. Its abundant resolution and frame-rate options will satisfy beginners and experienced shooters alike.
The built-in touchscreen eliminates the need for an LCD BacPac, and makes previewing, reviewing and changing settings a real breeze.
Built-In Wi-Fi and Bluetooth connectivity allows you to pair the HERO4 with a mobile device running the GoPro App, or use the separately available Smart Remote. With the app you can preview, playback, and share your favorite shots via email, text, Facebook, Instagram, and more.
There is also a USB port for file transfer, charging, or to connect the optional 3.5mm mic adapter.
Gopro
Gopro Hero4 Silver Action Camera