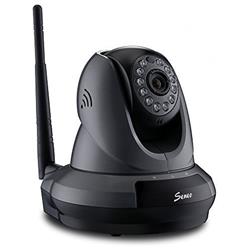 Get the Seneo Wireless Cloud IP Camera for only $89.99 after a price reduction from $259.99 at Amazon. This deal price saves you 65% off the retail price for this home monitoring system. Plus, this item ships free. This is the lowest price online for this item by about $27. The Seneo Wireless Cloud IP Camera features a built-in wider angle with 350 degree horizontal tilt, 100 degree vertical tilt, intelligent digital zoom and motion detection alert. Sales tax may be charged in some states.
Item Description
Remotely Control Pan and Tilt
Not quite getting the angle you would like? Not a problem. To maneuver the camera you simply swipe on your phone or tablet screen until you have the desired angle. Remember to download the APP then you can view all of your cameras remotely on your iPhone, iPad, or Android device.
Easy Set-up
It takes you only three or five minutes to set up the camera. Plug in the network and power leads, download the app and then scan the QR code, and then you are connected! Plus, the installation of the APP is very easy, the APP works great both over LTE and WIFI.
Security-guarded
In our daily life, there is always someone who you can't take your eyes off, just like your aged parents and your baby; However, with this cloud IP camera, you are worried-free.In case of any emergence happens, it will take the video automatically and call 911. SeneoCloud IP camera will be your sweetest security guarder and won't let you down.
Multi-used
With support for PCs, Macs and even Linux, you can use it forPet Monitoring, Nanny Cam, Business Monitoring, Security, Vacation Home Monitoring, Senior Monitoring, ect. Anytime and anywhere, you can take of your families, shops and offices via your pad which offer you a chance to witness any moments you want to be in it.
Save