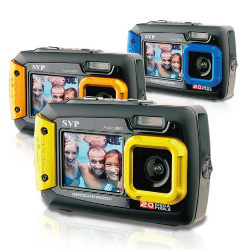 Get the SVP AQUA8800 Waterproof 20MP Digital Camera for only $69.99 after a price reduction from $104.99 at NeweggFlash. You save 33% off the retail price for this waterproof digital camera. Plus, this item ships free. This is the lowest price online by about $9. The SVP AQUA8800 Camera features dual LCD displays (2.7″ and 1.8″), 4X digital zoom, waterproof up to 3 meters, and 20-megapixels. Sales tax is charged in most states.
Item Description
This compact fun camera is tough as nails and defies water, ice and snow. The SVP AQUA8800 is an attractively priced digital camera that is immediately ready for action. In the mountains, on a turbulent, drenched boat tour, when the wind is scouring the beach with fine grains of sand, in glorious weather – and even up to 3m underwater, the SVP AQUA8800 is ready to go everywhere.
Its dual display make perfect self-portraits child's play. No more uncertainty about what the picture shows! Turn the camera to make a self-portrait and use the 1.8″ monitor on the front of the camera. Of course you can see all photos on the 2.7″ display on the back of the camera too. This new 20 megapixel max. camera is waterproof up to 3 m under water, dust-resistant and takes videos in brilliant VGA. Thanks to its especially robust body, the sporting fun camera is also suitable for snorkelling.
The technical equipment is rounded off by the high quality precision lens (F=1:2.8), USB 2.0 high speed interface, and 4x digital zoom. The guaranteed shock resistance up to a height of 1.5 m makes the SVP AQUA8800 suitable for all outdoor activities. Due to its easy handling, it is especially well-suited for children. With orange color, it is a colourful eye-catcher both in and near the water. The power supply is provided by two conventional AAA alkaline batteries and support microSD or SDHC memory cards up to 32 GB can be used as storage media.