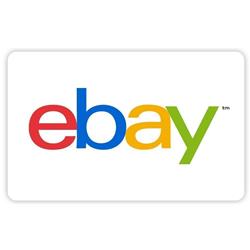 For a limited time, get a $100 eBay Gift Card for only $95 at eBay. This deal price saves you 5% off the retail value for this gift card. This item will be emailed to you by the eBay seller, PayPal Digital Gift, within 24 hours of purchase. Sales tax is not charged on the purchase of this gift card.
Item Description
Finding the perfect gift for that special someone is a challenge. How would you like the power to give the perfect gift, every time? An eBay gift card is the perfect way to give them exactly what they want — even if you don't know what it is. Favorite jeans for the fashionista, a laptop for the college student, a cookbook for the newlywed, a lucky fishing rod for the avid angler… eBay has all this and everything in between. Give the perfect gift, whatever it may be.
eBay Gift Cards never expire, so they can buy something immediately or wait for the deal of a lifetime.
Summary of eBay Terms and Conditions
Both an eBay account and PayPal account in the U.S. are required to use this card. Valid only for purchases on eBay where PayPal is accepted. Additional terms and restrictions are stated in the Terms and Conditions which can be found at http://pages.ebay.com/giftcard/terms_conditions.html. Not refundable or redeemable for cash or credit unless required by law. Purchase, acceptance or use of the card constitutes acceptance of the Terms and Conditions. Delivery of digital gift cards may be delayed by up to 24 hours following your order. For customer service, visit www.ebay.com/giftcard or call 866-914-8078.