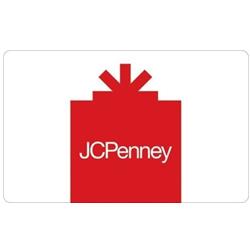 For a limited time, get a $50 JCPenney Gift Card for only $40 at eBay. This deal price saves you 20% off the retail value for this gift card. Once ordered, the gift card code will be emailed to you by the eBay seller, PayPal Digital Gifts, within 24 hours. Sales tax is not charged on the purchase of this gift card.
About JCPenney
JCPenney, one of America's leading retailers, operates more than 1000 department stores throughout the US and PR. JCPenney offers a wide array of brands at smart prices including family apparel, home furnishings, fine jewelry, footwear, accessories and beauty products and services.
JCPenney Terms & Conditions
PROTECT THIS CARD LIKE CASH. Redeemable for merchandise or services (excluding gift cards) in JCPenney Stores in the U.S. or PR, and jcp.com. Not redeemable for cash except where required by law. May not be used to pay on credit accounts. Lost, stolen or damaged gift cards may be cancelled and replaced with a new gift card in the amount of the then remaining balance upon proof as required by JCPenney. Contact your local JCPenney Store for details. Card has no value until activated. No fees or expiration date. For Balance Inquiry or Customer Service, call 1-800-294-8804 or for Balance Inquiry visit JCPenney.com. All trademarks are property of their respective owners.