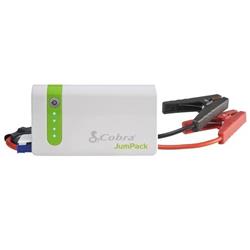 This Cobra JumPack Jump Starter/Power Pack (CPP 7500) originally $119.99 drops to just $69.99 at Best Buy. This deal price represents a savings of 42% off the retail price for this portable charger. Plus, this item ships free. This is the lowest price online by about $26. The Cobra JumPack features 200 Amp starting current, 400 Amp peak current, 7500mAh lithium-cobalt battery, and 2.1 Amp USB port. Sales tax is charged in most states.
Item Description
What if you could jump start your car and charge your mobile devices off the same battery pack that easily fits in your backpack or purse? The Cobra JumPackTM is all of that and more. With a starting current of 200A and 400A peak current the Cobra JumPack has enough power to jump start most cars multiple times on a single charge.
This compact portable power pack also contains a 7,500 mAh battery with a 2.1 Amp USB output to rapidly charge any mobile device from smart phones to tablets to digital cameras, making it the ideal emergency battery pack for a home, office, vehicle or the outdoors.