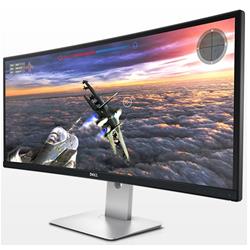 This Dell UltraSharp U3415W 34-Inch Curved LED-Lit Monitor originally $999.99 drops to just $649.99 at eBay. This deal price saves you 35% off the retail price for this LED monitor. Plus, this item ships free. This is the lowest price we could find online for this Dell monitor by about $100. The Dell UltraSharp U3415W Monitor features a 34″ LED display, 21:9 widescreen aspect ratio, 3440 x 1440 at 60Hz optimal resolution, 300 cd/m2 brightness, height-adjustable stand and an antiglare screen coating. Sales tax is not charged in most states except NJ and NY.
Item Description
Discover one of the world's first 34 inch 21:9 curved monitors with a panoramic view, cinematic WQHD resolution and superb sound.
The Dell UltraSharp 34 inch Curved Monitor engages you in a new wrap-around viewing experience with a 21:9 ultra-wide curved screen that offers more display area and enhanced viewing comfort.