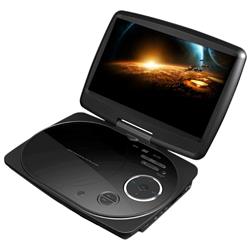 Get the Impecca DVP916K 9 Inch Portable DVD Player for only $54.49 after a price drop from $99.95 at Amazon. You save 45% off the retail price for this portable DVD player. Plus, shipping is free. We found this item for the same price at one other reputable online retailers, although most other retailers offered this starting at $69.99. The Impecca DVP916K features a 9″ TFT SCD screen, 270-degree swivel angle, built-in speakers, rechargeable battery, built-in memory card slots and DVD player. Sales tax may be applicable in some states.
Item Description
The 9″ Portable 270° Multisystem Swivel DVD Player from Impecca offers a 480 x 234 resolution, a built-in 3W speaker system, and a rechargeable lithium-ion battery. The unit is ideal for extended road trips, long flights, hotel stays, camping trips, home use and anywhere else you want to enjoy a good movie. The DVD player is very easy to use, and features a top-loading disc drive
Other features include an integrated USB port, an SD/MMC memory card reader and a rechargeable lithium-ion battery. The device is compatible with most CDs, DVDs, and JPEG photos.