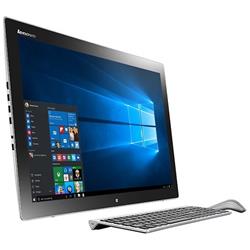 This Lenovo Horizon II 27-Inch Portable Touch-Screen All-In-One Computer (F0AQ000PUS) originally $1,499.99 drops to $1,229.99 at Best Buy. This deal price saves you 18% off the retail price for this all-in-one computer. Plus, this item ships free. This is the lowest price online by about $170. The Lenovo Horizon II features Microsoft Windows 8.1, internal battery, 27″ full HD multitouch screen, 8GB system memory, 1TB hard drive, built-in 2.0MP webcam, and three USB 2.0 ports. Sales tax is charged in most states.
Item Description
Striking Multimode Design
At just 0.8″ thin, the Horizon 2 is sleek, stylish and ultraslim. Better yet, it works as both a Table PC and as a desktop in Stand mode — the display is comfortable to use because it allows screen angles that range from -10 degrees to flat. And remember: In Table Mode, Horizon 2 offers an unprecedented multi-user experience that allows friends and family to interact with it at the same time.
Multi-User Interface
When the device is used as a table PC, two or more people can simultaneously access content via the new and improved Aura interface. Access media from other PCs and mobile devices directly onto the Horizon 2's display; edit with multitouch; share photos directly to Facebook – friends can even place their phones on the Horizon 2, directly extract photos, edit them, and transfer the new file to another phone.
Preloaded Multi-user, Multitouch Apps
The Horizon comes with more than 60 multitouch, multi-user games and educational apps — including offerings from Ubisoft and Crayola. You can also download more from the dedicated Lenovo App Shop.
Unique Table PC Accessories
Heighten your digital gaming experience by enhancing the onscreen action with three exclusive physical accessories: Joystick, Striker, and E-dice.
Home Portable
The integrated battery offers up to four hours' battery reserve (JEITA A), which makes the Horizon 2 easy to move around the home. Horizon 2's table stand (optional) is a custom accessory that make it easy to use and move around.
Easy File Transfer
Near-Field Communication (NFC) technology makes it easy to wirelessly share files across multiple devices.
Dolby® Speakers with Home Theater®
Enjoy a crisp, clear, immersive surround sound experience over built-in stereo speakers, with increased audio clarity and maximized volume output without distortion.
Lenovo Motion Control
Use the webcam as an input device — effortlessly flip pages, rewind/forward music, change volume, and gesture other simple commands with the flick of the hand.