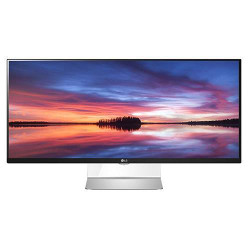 eBay has the LG 34UM95C-P 34″ 21:9 Ultrawide WQHD IPS LED Monitor with Integrated Speakers for only $549.99 (Reg. $899.99). This deal price saves you 39% off the retail price for this computer monitor. Plus, this item ships free. This is the lowest price we could find online for this item by about $80. The LG 34UM95C-P Monitor features a 34-inch LED backlit display, built-in speakers and an IPS panel. Sales tax is not charged in most states except NJ and NY.
Item Description
The UltraWide 21:9 aspect ratio makes movies and games more immersive than ever. Need to get some work done, too? All of that UltraWide real estate makes it easy to view multiple documents at the same time, so you don't need to flip back and forth between them.
21:9 Aspect Ratio
3440 x 1440 Resolution (WQHD)
sRGB over 99%
4-Screen Split
Dual Controller
2 HDMI, 1 DisplayPort
MAXX Audio
Integrated Speakers (2x 7W)
Mac Compatible
The 3440 x 1440 UltraWide QHD display also offers amazingly sharp picture quality. Its pixel area is about 1.8 times larger than an UltraWide Full HD 21:9 monitor, and about 2.4 times larger than a Full HD 16:9 monitor. It provides an efficient environment in using Microsoft Office programs showing 47 columns and 63 rows in Excel.
IPS (In-Plane Switching) technology enhances the performance of liquid crystal displays. Response times are shortened, color reproduction is improved, and users can now view the screen at virtually any angle.
sRGB is the standard color space of ideal color reproduction. So, with over 99% coverage of the sRGB spectrum, this LG monitor is a great solution for professional photographers, graphic designers or anyone looking for highly accurate color.