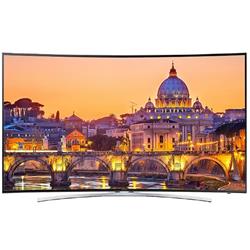 Get the Samsung UN65H8000 Curved LED Smart 3D HDTV with 4 pairs of 3D active glasses for only $1,899.99 (Reg. $3,999.99) at Groupon. You save 56% off the retail price for this 3D HDTV. Plus, shipping is free. This is the lowest price online by about $200. The Samsung UN65H8000 features a 65-inch curved display, 3D in 1080p HD resolution, 240Hz refresh rate, DTS premium sound 5.1, Samsung smart hub, and four HDMI ports. Sales tax may be applicable in some states.
Item Description
As an Evolutionary TV, this HDTV keeps pace with technology advancements through regular software updates. These may include feature additions, new apps, and other changes that will enhance your picture quality and entertainment access for years to come.
Samsung Smart Hub: Your HDTV's Control Center
Samsung's Smart Hub makes streaming movies, viewing photos, and even checking out social media quick and easy. Apps such as Netflix and Hulu Plus are laid out like on a smartphone or tablet, so you can quickly get to the content you want. The Smart Hub's wireless networking lets you share connected mobile devices' pictures and videos on the big screen, as well as access news and Facebook posts.
Lifelike Picture, Even at Wide Viewing Angles
Saturating the display with more 2 million pixels, 1080p Full HD resolution supports a super-fine level of image detailing, no matter if you're watching a sitcom or 3D Blu-ray movie. The curved panel invites friends and family to watch along with you, creating a panoramic effect that makes the picture feel bigger and look clearer. It's also packed with other image-enhancing features, such as Auto Depth Enhancer to continually adjust contrast for a more realistic sense of depth.
Smooth Fast-Action Entertainment
Follow every moment in a heated playoff game, breakneck action movie, or slapstick routine set to "Yakety Sax." Supported by Clear Motion Rate (CMR) 1200 technology, the 240Hz refresh rate rapidly rebuilds the picture every second, virtually eliminating detectable blur.
HDMI and USB: Connect to More Content
An HDMI port connects high-definition components such as a Blu-ray player, cable box, or game console directly to your HDTV. A USB input pushes your TV's connectivity even further, letting you listen to music saved on thumb drives, external hard drives, and other USB sources.