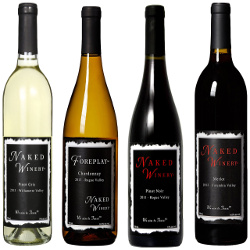 This Naked Winery Best Sellers Mixed Pack (Four 750mL Bottles per pack) drops from $93 to $60 at Amazon. You save 35% off the retail price for these wine bottles. Plus, 1¢ Standard Shipping on qualifying orders when you buy 3 or more bottles from this seller and ship them to the same address. Sales tax may be applicable in some states. The Mixed Pack will include a selection of the following wines:
2012 Naked Winery Merlot 750 mL
Aged in both French and American oak barrels, this smooth and soft fruity dark red has notes of ripe cherry and aromas of blackberries and black currant. This Naked Merlot shows its long legs with good structure and a lasting finish of chocolate and caramel. We suggest Braised Lamb Shanks with mint orange pesto and a wild rice pilaf.
Three Word Taste Summary: cherry , black currant , blackberry
Varietal/Blend: Merlot
2011 Naked Winery Rogue Valley, Oregon Pinot Noir 750 mL
Try the Varietal that made Oregon wines famous: Pinot Noir. 100% Pinot Noir, enjoy the classic light body and rich cherry nose with a delicate satin tannin finish that lingers playfully on your tongue.
Varietal/Blend: Pinot Noir
2013 Naked Winery "Foreplay" Rogue Valley, Oregon Chardonnay 750 mL
This 100% Chardonnay offers rich aromas of tropical fruit and citrus on the nose. Low hanging ripe citrus fruit feels fleshy and soft in your mouth. A short time on oak gives lovely clean buttery invitations to enjoy an elongated session of Foreplay.
Three Word Taste Summary : clean , green apple , oak
Varietal/Blend: Chardonnay
2013 Naked Winery Willamette Valley Pinot Gris 750 mL
A staff favorite, this wine is consumed anywhere, anytime. There is no limit on where you can get Naked with our Pinot Gris. Ripe Bosc Pear mingled with Candy Cane on the nose following by tart pineapple with a crisp, clean finish on the palette.
Three Word Taste Summary: pear , pineapple , green apple
Varietal/Blend: pinot grigio
About Naked Winery
At Naked Winery we're on a mission to cut America's divorce rate in half by inviting couples to shut off the TV and share a glass of wine with each other nightly. Our philosophy is to produce premium class Oregon and Washington wines, with exotic brands and provocative back labels that are just a bit risqué. We aim to please the palate, change the conversation and enhance the romantic experience around wine. Drink what you like and remember that, "We Aim to Tease!". In addition to our flagship brands Naked Winery and Oh! Orgasmic, we also offer Outdoor Vino, a wine that lets you "Take it Outside!" Packaged in a durable plastic bottle weighing in at only a fraction (1/6) of a traditional wine bottle, it's reusable, recyclable and BPA-free, perfect for those looking for an outdoor adventure.