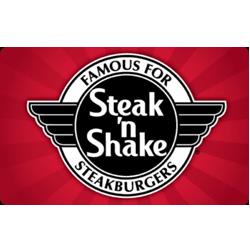 For a limited time, get a $25 Steak 'n Shake Gift Card for only $20 at eBay. You save 20% off the retail value for this gift card. Plus, this gift card ships free. Use this gift card at any Steak 'n Shake® location, anytime. Sales tax (on this gift card) is not applicable in most states.
Item Description
After 77 years, we are continuing Steak 'n Shake's tradition of serving the country's best, freshest, and tastiest burgers and shakes. Your friends, family and co-workers will be delighted to receive the gift of Real-Steak Steakburgers, Real-Milk Milk Shakes, and everything else on our full menu. The perfect gift is easy and convenient to give. Our gift cards can be used at any Steak 'n Shake®, anytime.
Terms and Conditions
The TAKHOMACARD® must be activated at a cash register through a completed transaction. Maintain the receipt for your records. The card cannot be redeemed for cash or applied as payment to any account unless required by law. The TAKHOMACARD® has no expiration date, but after 24 months of inactivity a $1.50 per month service charge will be deducted from the inactive card balance until depleted, except where prohibited or restricted by law. Use of this card constitutes acceptance of these conditions. All Gift Card transactions from the Steak 'n Shake® website are conducted in the state of Indiana, and follow Indiana Gift Card commerce regulations.