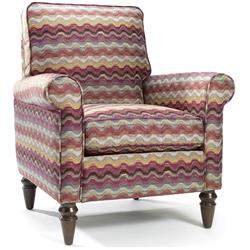 Right now you can get the Homeware Hartley Mariposa Chair for only $429.99 after a price drop from $789 at Overstock. You save 46% off the retail price for this living room chair. Plus, this item ships free. This is the lowest price we could find online by about $82. The Homeware Hartley Mariposa Chair (HW1015-05-109MAR14F) features roll arms, loose pillow back and a Mariposa color. Sales tax is charged in most states.
Item Description
Do you zig when you ought to zag? Then come closer. Homeware's Hartley chair thinks outside the box just like you. Classic good looks: rolled arms, turned legs, and a high-back box cushion (that will absolutely always have your back). Adventurous attire: in a surprise twist of fate and fabric, Hartley's dressed to turn heads in a modern zigzag. Ideal for those who color outside the lines.
The Mariposa fabric is an easy-on-the-eye, pleasing to the touch zigzag pattern in revved-up sherbet hues of raspberry, orange dreamsicle, and minty blue.