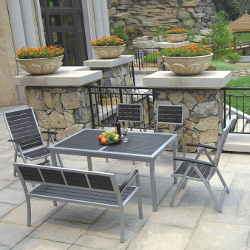 This Kontiki Butterfly 6 Piece Extendable Dining Set (10099748) drops from $1,868 to only $1,006.86 at Sears. You save 46% off the retail price for this patio dining set. Plus, this item ships free. This is the lowest price we could find online for this item by about $622. The Kontiki Butterfly Dining Set includes one bench seat, four (4) dining chairs and an extendable table. Sales tax is charged in most states.
Item Description
A new collection of garden furniture in a combination of aluminum and the unique material artwood.
Artwood is made of 100% recyclable plastic, which has the soul and beauty of wood, maintains its beautiful wood appearance for years.
It is impervious to sun, rain, mold and insect damage.
The set consists of a large and EXTENDABLE dining table, with a leaf that can be used to extend the size of the table from 173cm to 265cm – large enough to fit everyone at your dinner party.
Dimensions: Extension Table: 59.84″L/82.68″L x 35.43″W x 29.53″H; Foldable Chair: 27.0″L x 22.5″W x 40.9″/31.1″; 2 Seat Chair: 50.4″L x 23.2″W x 34.5″H
Comfortably seat 6 people with the four free-standing dining chairs and a beautiful bench seat
We also offer the option to purchase more matching chairs if you have an extra-large family or like the host the neighborhood barbecues!