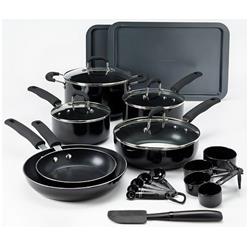 This weekend Kohl's is offering the Food Network 22-pc. Nonstick Aluminum Cookware Set for only $69.99 after a price drop from $199.99. This deal price saves you 65% off the retail price for this cookware set. Plus, when you spend $75+ this item ships free. Today's sales price beats the last time this item was discounted by about $30. The Food Network 22-pc. Cookware Set features a durable aluminum construction, nonstick surface, tempered glass lids and ergonomic handles. Sales tax is charged in most states.
Item Description
Every home chef will love to have this Food Network cookware set on hand.
PRODUCT FEATURES
Durable aluminum construction distributes heat evenly for perfect cooking results.
Nonstick surface makes cooking and cleanup a breeze.
Tempered glass lids lock in heat and moisture.
Ergonomic handles provide a safe, secure grip.
WHAT'S INCLUDED
8-in. frypan
10-in. frypan
2-qt. covered saucepan
3-qt. covered saucepan
3-qt. covered saute pan
6-qt. covered saucepan
4-pc. measuring cups
5-pc. measuring spoons
Spatula
15″ x 10″ cookie sheet
16.5″ x 10.5″ cookie sheet