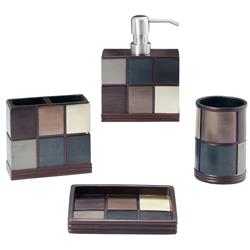 Get the Grand Luxe Oxford Bath Accessory 4-piece Set for only $36.99 (Reg. $145.99) at Overstock. You save 75% off the retail price for this bathroom accessory set. Plus, when you spend $50 or more this item ships free. This is the lowest price online by about $17. The Oxford Bath Set includes one lotion/soap dispenser, one soap dish, one toothbrush holder, and one tumbler. Sales tax is applicable in some states.
Item Description
This resin bath set features a classy geometric pattern to add beauty and order to the bathroom. The modern set includes a lotion/soap dispenser, soap dish, toothbrush holder and tumbler.
Earthy tones and clean lines on this four-piece set let you add a touch of contemporary style to your bathroom. With versatile colors like brown, blue, and off white, these pieces easily match with a variety of existing bath decor. Each piece is made of durable resin material that is easy to clean.