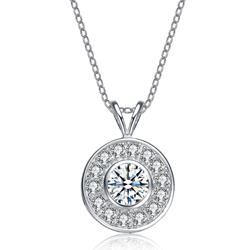 Get the Collette Z Sterling Silver Cubic Zirconia Round Necklace for only $8.99 after a price drop from $76.46 at Overstock.com. This deal price saves you 88% off the retail price for this cubic zirconia necklace. Add about $3 for shipping or receive free shipping when you spend $50 or more. This is the lowest price online for this necklace by about $6. The Collette Z Necklace (OPEN6085K) features a sterling silver metal, round cubic zirconia stone, and measures 18-inches. Sales tax is charged in most states.
Item Description
This clear cubic zirconia pendant features a large, dazzling stone surrounded by smaller, stunning stones in striking, highly polished sterling silver mounts. They're sure to attract attention no matter what you wear them with
Show off a look as luxurious as precious gems found in nature with this cubic zirconia necklace. The sparkling round pendant boasts a central stone with a secure, showy bezel setting and a frame of prong-set CZs. A popular 18-inch princess length cable chain made of durable sterling silver suspends the pretty pendant at collarbone level, creating a flattering look that's easy to wear.