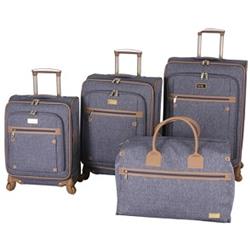 This Nicole Miller Taylor 4-Piece Spinner Luggage Set originally $905 drops to only $189.99 at Groupon. This deal price represents a savings of 79% off the retail price for this luggage set. Plus, this item ships free. This is the lowest price online for this 4-piece luggage set. Most online retailers sell these items individually. The Taylor Spinner Luggage Set includes:
28" Suitcase: 18" (W) x 11"–12.5" (D) x 28" (H); 12lb.
24" Suitcase: 16" (W) x 10"–11.5" (D) x 24" (H); 9lb.
21" Suitcase: 14" (W) x 10"–11.5" (D) x 21" (H); 8lb.
Boarding Tote: 10" (W) x 10" (D) x 15" (H); 2lb.
Sales tax may be applicable in some states.
About Nicole Miller
A classically draped dress, a standout print, a perfectly tailored skirt—these are Nicole Miller's bread and butter. The designer studied both classic design and haute couture at a top Parisian school, which lends her clothes their figure-flattering appeal. But to chalk up Miller's pull to an incredible fit would be to sell her short. The designer built her reputation on bold prints, first in ties and later in her award-winning women's wear. In 2012, the designer received a lifetime achievement award from Fashion Group International, just in time for the 30th anniversary of her brand's launch. Perhaps her current CEO put it best when he said of the clothes, "When you put them on, you feel good."
Item Details
Lightweight luggage set
Fashionable, coordinating exteriors
Fully lined interiors
360º spinner wheels glide across floors
Telescopic push-button handles
Suitcases expand for more storage
10" handle on tote