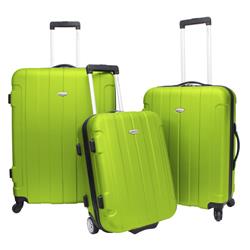 Get the Traveler's Choice Rome 3pc Hardside Spinner Luggage Set for only $129.99 after a price drop from $499.99 at Overstock. You save 74% off the retail price for this spinning luggage set. Plus, this item ships free. This is the lowest price online by about $24; however, Amazon does offer the black set for $115.63, while other color styles will run you $153.99. The Rome Luggage Set features a polycarbonate shell, full interior lining, internal zipper pockets, and tie-down strips. The luggage set includes one 20″ upright, 24″ upright, and 28″ upright. Sales tax is charged in most states.
Item Description
This value set features a sophisticated style with a convenient lightweight hardside construction. The polycarbonate ABS shell material provides strength and maximum impact resistance.
This rugged Traveler's Choice Rome hardside spinner luggage set features an impact-resistant exterior that keeps your belongings tucked safely inside. The spacious main compartment has tie-down straps that keep your clothes neatly folded, and the multiple interior zippered pockets help to keep all of your small items separated and organized.