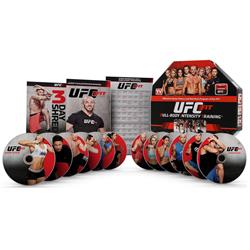 This UFC FIT 12-Week Home Training Weight Loss Exercise Fitness DVD Workout Program originally $179.95 drops to only $59.99 at eBay. You save 66% off the retail price for this fitness DVD set. Plus, this item ships free. This is the lowest price online by about $18. The UFC FIT 12-Week DVD Set features 12 DVDs, workout tracker and 132-page lifestyle & nutrition manual. Sales tax is not charged in most states except NE, NV and PA.
Item Description
Designed for both men and women, this 12 week body makeover program will help you shed pounds, inches, and tone up! Results are guaranteed! Even better you can do it on your own schedule and you have a personal coach to help along the entire way.
The UFC FIT program is broken into four, three-week segments. Picture steps, where each one stacks on top of the other. You must go through the first weeks to develop the strength, flexibility and conditioning for the later weeks. The training techniques found in UFC FIT™ are guaranteed to get you lean, trim & toned.
UFC FIT teaches techniques with the proper volume and intensity to force consistent progression so that with each workout, you get better. By Week 12, you will be in the absolute best shape of your life, just like a UFC athlete when he or she peaks before entering the Octagon. So begin your UFC FIT Journey and enjoy your transformation!
12 Different Workout DVDs
132-page Lifestyle & Nutrition Manual
90-day VMInnovations Warranty