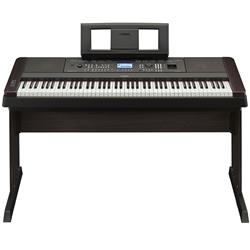 For a limited time, get the Yamaha DGX650B Digital Piano for only $749.99 after a price drop from $1,299 at Amazon. This deal price saves you 42% off the retail price for this digital piano keyboard. Plus, this item ships free. This is the lowest price we could find online by about $80. The Yamaha DGX650B Digital Piano features PureCF-sampled sound, AUX line input, 128-note polyphony and 88-note weighted GHS action. Sales tax may be charged in some states.
Item Description
The DGX-650 is Yamaha's newest ensemble digital piano to feature a variety of interactive features that make learning, playing and sharing music fun for everyone. Acoustic piano touch and tone come first via the Graded Hammer Standard action and PureCF sampling, which includes recordings of a Yamaha concert grand piano.
A weighted action with heavier touch in the low end and lighter touch in the high end, just like the hammers inside an acoustic piano. Great for the aspiring pianist, practicing on the GHS action builds the proper finger technique for when the time comes to perform on an acoustic piano.