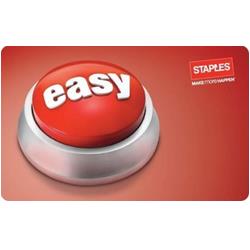 For a limited time, get a $200 Staples Gift Card for only $170 at eBay. You save 15% off the retail value for this office supplies gift card. Once ordered, this item is delivered via email within 24 hours by the eBay seller, PayPal Digital Gifts. Giving the perfect gift has never been easier! Whatever the season or reason, a Staples gift card makes a great gift. With thousands of options, there's something for everyone — digital cameras, GPS, laptops, printers and more. Sales tax is not charged on the purchase of this gift card.
Instructions + Terms & Conditions
Instructions: This card may be used just like cash toward the purchase of merchandise and services at any Staples U.S. retail store; your receipt will show the remaining balance on the card. For balance, or if you have questions, call 1-888-609-6963 or visit staples.com/giftcards. Value can be added to this card at any Staples U.S. retail store.
Terms and Conditions: Valid only if purchased from a Staples U.S. retail store, at staples.com® or from an authorized reseller or distributor, or received from an authorized distributor; Staples reserves the right to not honor cards obtained from unauthorized sellers, including Internet auction sites. Card has no value until activated. Lost, stolen or damaged cards replaced only with valid proof of purchase to extent of remaining card balance. May be used only in Staples U.S. retail stores. Cannot be used for credit card payments or to purchase other gift cards (including Staples Gift Cards) or wireless cards. Not redeemable for cash or credit except where required by law. No more than five cards may be used for any single purchase. Cards may not be consolidated. Card issued by Staples Value, LLC.