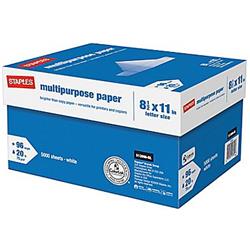 This Staples® Multipurpose Letter Size Paper (10 Reams) was originally $53.99 and drops to $14.99 with a rebate at Staples. You save 72% off the retail price for this multipurpose paper. Add extra for shipping or choose free in-store pickup. The Staples Multipurpose paper is letter size (8 1/2″ x 11″) and features a brightness level of 96 and each case comes with 10 reams paper with 500 sheets per ream. Sales tax is charged in most states.
Item Description
Staples Multipurpose paper ideal for letters, memos, in-house documents is great for laser or inkjet printers. Acid free paper measures 8 1/2″ x 11″ and is archival safe that never turns yellow or crumble over time.
Staples multipurpose paper lets you easily print and copy documents without worrying about having different papers for each job. At 8 1/2″ x 11″, this paper is ideal for letters, memos, and in-house documents.