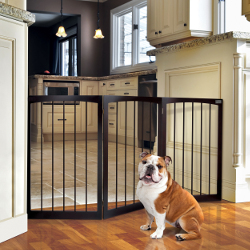 Get the Animal Planet Free Standing Wooden Pet Gate for only $34.97 after a price drop from $79.99 at Overstock. You save 56% off the retail price for this pet gate. Add about $3 for shipping or receive free shipping when you spend $50 or more. This is the lowest price we could find online for this item by about $8. The Free Standing Gate Model #2301037) features foam footpads, three panels, and item folds to 1.5 inches for storage. Sales tax is charged in most states.
Item Description
Designed for small and medium dogs, the Animal Planet Wooden Pet Gate will safely limit your pet's access to certain areas of your home. This versatile 3-panel pet gate, measures 63 x 30 inches, requires no installation and is easy to store. Protect your dog while maintaining a stylish home with this wooden animal gate. It makes the perfect gift for the animal lovers in your life. The dark wood stain complements a variety of home styles and decors. When traveling, bring this gate with you to keep your dog safe when visiting friends and family.
This gate is easy to move from room to room as needed. Put it at the entrance to the kitchen while you're making dinner, then move it to block the dining room when dinner is ready. Its folding-panel design is ideal for blocking off doorways and hall entrances of varying widths, so it works almost anywhere.