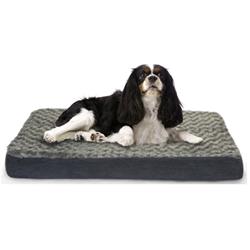 This Furhaven Ultra Plush Deluxe Orthopedic Pet Bed originally $49.99 drops to $18.98 at Overstock. You save 62% off the retail price for this orthopedic pet bed. Add about $3 for shipping or receive free shipping when you spend $50 or more. This deal price is for the Medium sized bed, while the Large bed is $23.98 and the Jumbo bed is $32.98. This compares well against other retailers who offer the Large bed starting about a $1 higher. We found one other reputable online retailer selling the Medium sized bed for about $8 more than this deal price. The Orthopedic Pet Bed helps relive join pain and promotes better circulation. Sales tax is applicable in some states.
Item Description
Give your pet the perfect place to stay comfortable and relieve joint pain with this Furhaven Ultra Plush Deluxe Orthopedic Pet Bed, available in several colors and sizes. The zippered cover adds convenience for messes and is easily machine washable.
Faux fur upholstery gives this plush bed a soft texture, while a thick foam cushion offers luxurious comfort that will pamper your pet. Available in several color choices, this bed is particularly good for senior dogs who suffer from arthritis, Place it in the bedroom or tucked away in the living room to create a quiet retreat for your dog.