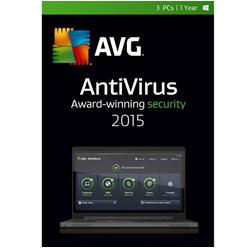 This AVG AntiVirus 2015 3 User 1 Year (Download) was $39.99 after a price drop from $9.99 at NeweggFlash. This deal price represents a savings of 75% off the retail price for this software download. This is the lowest price online by about $9. The AVG AntiVirus 2015 download helps stop, remove and prevent the spreading of viruses, worms, and trojans. Sales tax may be applicable in some states.
Item Description
Antivirus
Helps stop, remove and prevent the spreading of viruses, worms, and trojans.
Anti-Malware
Protects you from malware on your PC and helps stop anything that's infected.
Anti-Rootkit
Helps keep control of your PC in your hands, not some hacker's.
Email Scanner
Detects infected or rogue inbound attachments so they can't damage your PC. Works as a plug-in for email applications including Microsoft Outlook® or as a scanner for POP3, SMTP and IMAP accounts.
Protective Cloud Technology
Identifies and prevents emerging threats "in the cloud" via automatic updates to your antivirus software.
Community Protection Network
Instantly converts every new threat encountered by any member of our community into protection for everyone. It adds up to ever-better antivirus protection for the entire AVG community.
AVG LinkScanner® Surf-Shield
Smart prevention technology that stops you hitting infected or criminal sites. Actively checks every webpage just before you click and stops you if it detects anything suspicious.
Social Networking Protection
Checks the links that get exchanged when you're on social networks such as Facebook®, Twitter® etc. to help keep you and your friends safe.
AVG Online Shield™
Checks files before you download them to ensure they are safe, and protects you as you exchange files using MSN and Yahoo! and ICQ.