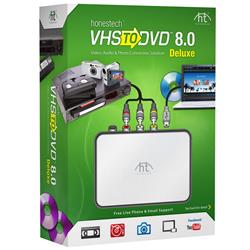 Get the Honestech VHS to DVD 8.0 Deluxe (PC Discs) for only $54.99 after a price drop from $69.99 at Best Buy. You save 21% off the retail price for this file conversion software. Plus, shipping is free. This is the lowest price online for this item by about $10. The VHS to DVD allows you to convert your old video tapes to digital formats, which can then be transferred to a DVD. Sales tax is charged in most states.
Item Description
For every volleyball game, Thanksgiving dinner, ballet recital, graduation ceremony, endzone touchdown, first wobbly step and beach excursion, you've got home video footage to commemorate and capture the event. Life is filled with precious, breathtaking moments that can fade all too quickly from the memory if left undocumented. These are the memories you want to relive forever, but video tapes often deteriorate over time with color bleeds, white specks and other distortions, tainting your ability to look back fondly on cherished events in clear detail. With VHS to DVD 8.0 Deluxe, you can experience powerful and simple video conversion that lets you archive your VHS videos onto DVDs with just a few clicks.
Don't lose another family moment to outdated technology and deteriorating videotapes. Preserve those memories with VHS to DVD 8.0 Deluxe. With two video-conversion modes, this software caters to a range of ability levels and requirements. Ideal for beginners with straightforward goals, the Easy Wizard mode lets you transfer videos to DVDs with just one click, offering step-by-step pictorial instructions to ease you through the process. For individuals with creative interests, Advanced mode allows you to record videos from a VCR, camcorder, DVD player or other source, edit out unwanted scenes, add transition effects and then burn creations to DVDs, create digital files or upload them directly to YouTube or Facebook. Plus, a bonus PhotoDVD feature enables you to make more out of your photos and videos by turning them into slideshows using ready-made themes, and a bonus Audio Recorder makes it simple to create WMA files or audio CDs by recording audio from cassettes, LP records and video tapes. Make your memories last with VHS to DVD 8.0 Deluxe.