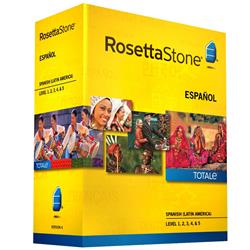 For a limited time, get the Rosetta Stone Spanish (Latin America) Level 1-5 Set for only $209 (Reg. $499) at Amazon. You save 58% off the retail price for this language learning software. Plus, this item ships free and is available for PC & Mac download. This is the lowest price online by about $20. The Rosetta Stone software walks users through the process of learning a new language with games, written scripts, and speech recognition capabilities. Sales tax is charged in some states.
Item Description
Develop your command of the language. From the simple to the complex, gain the confidence to share your ideas and opinions. Develop conversational skills to plan adventures, care for your health, and move abroad. Talk about government, work, movies, and citizenship. Discuss family and traditions, and celebrate success.
Interactive language software with proprietary speech-recognition technology
Develop your command of the language–read, write, speak, and understand
Build vocabulary; negotiate complex situations; share ideas and opinions
Enhance your learning on-the-go with Rosetta Stone mobile apps for the Kindle Fire HD, iPad and iPhone. Three month access included with purchase.
The online games and lessons are only included for three months after which you must buy a subscription to continue using them.